FABIO GIAGHINO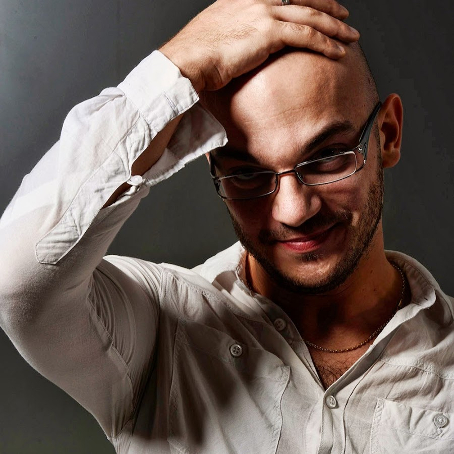 Classe 86' è considerato uno dei maggiori talenti apparsi sulla scena musicale italiana degli ultimi anni.
Nato ad Alba e trasferitosi successivamente a Torino, e' stato insignito di importanti riconoscimenti in tutti i principali premi italiani ed europei a livello Internazionale e Nazionale.
Come solista si è aggiudicato il "Premio Internazionale Massimo Urbani 2011", il "Premio Nazionale Chicco Bettinardi 2011", ed il Red Award "Revelation of the year 2011"JazzUp channel.
In trio ha ottenuto il Premio Speciale come ""BEST BAND" al "Bucharest International Competition 2014", il premio "Fara Music Jazz Live 2012" (sia come miglior solista che come miglior gruppo), il premio"Barga Jazz Contest 2012" ed il "Premio Carrarese Padova Porsche Festival 2011".
Nel 2014, 2013, 2012 e 2011 è stato votato tra i primi 10 pianisti italiani secondo il referendum "JazzIT Awards" indetto dalla redazione della rivista JAZZIT.
Nel 2014 e 2013 viene votato anche in trio tra i primi 10 gruppi italiani.
L'album d'esordio "Introducing Myself" registrato in trio con la partecipazione speciale del sassofonista Rosario Giuliani e il secondo disco in trio "Jumble Up", sono stati inseriti rispettivamente nei "100 Greatest Jazz Album 2012 e 2013" sempre secondo la rivista JAZZIT.
Parallelamente agli studi accademici classici (conclusi con il diploma in Organo e la laurea di II Livello rispettivamente nel 2006 e nel 2009) ha studiato jazz seguendo lezioni private e workshop con:
A.Faraò, D.Moroni, R.Zegna, D.Rea; F.D'Andrea, S.Battaglia, G.Trovesi, P.Tonolo, F. Di Castri (Siena Jazz 2007 dove vince una borsa di studio per il 2008); B.Harris (Felt Club Roma), J.Calderazzo, K.Rosenwinkel, S.Colley, J.T.Watts, S.Bonafede (Saint Louis College Roma).
Nel marzo 2012 ha terminato il biennio di Jazz presso il Conservatorio G. Verdi di Torino con F.Di Castri e D.Moroni.
Nel 2011 vola a Detroit insieme ad Emanuele Cisi per uno scambio studendesco, tra il conservatorio di Torino (dipartimento di jazz) e la Wayne State University of Michigan, dove si è esibito con la big band dell'università ed i relativi professori.
Nel 2012 e 2009 studia a New York privatamente con Fred Hersh e Hal Crook.
Svolge un'intensa attività concertistica che lo ha visto esibirsi in: Germania, Francia, Svizzera, Belgio, Spagna, Inghilterra, Repubblica Ceca, Polonia, Turchia, Romania, Canada, U.S.A e tutta Italia.
Nel 2015, in trio, ha rappresentato ufficialmente la città di Torino a Bruxelles ed a Barcellona in onore dell'Expo-TO.
In ambito jazzistico, ha collaborato tra gli altri con: ​Dave Liebman, Furio Di Castri, Emanuele Cisi, Fabrizio Bosso, Rosario Giuliani, Maurizio Giammarco, Marco Tamburini, Dino Piana, Gegè Telesforo, Aldo Mella, Aldo Zunino, Nicola Angelucci, Enzo Zirilli, Gilad Atzmon, Javier Girotto, Miroslav Vitous, Achille Succi, Davide Pastor, Benjamin Koppel, Mark Nightingale, Juan Carlos Calderin, Dusco Goycovitch, Diego Borotti, Paolo Porta, Massimo Manzi, Luca Begonia.
In ambito Pop e R&B, ha lavorato tra gli altri con: Roy Paci, Motel Connection, ENSI, Dj2P.
Discografia
"Balancing Dreams" - Piano solo (Tosky records 2015)
BLAZAR - Fabio Giachino Trio (2015, Abeat Records)
A.Matveeva "Vocalese" (2015, Puma Chan Records)
M.Rolff 4tet "Scream" (2014, BlueArt Label)
Jumble UP - Fabio Giachino Trio (2014, Abeat Records)
Introducing Myself - Fabio Giachino Trio feat. Rosario Giuliani (2012, Musicamdo jazz Records)
Jazz Accident - Playmobil (2011, Abeat Records)
Animalunga "Market Polka" (2011, Zone di Musica)
Jazz Accident (2010, Emmeciessemusic)
Avec4 (2008, Videoradio)