TOM HARRELL - tromba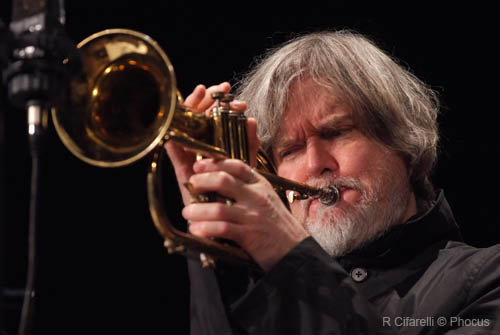 Nato il 16 Giugno 1946 Tom Harrell iniziò a suonare la tromba in giovanissima età, mostrando una grande predisposizione: già dall'età di 13 anni suonava infatti professionalmente con formazioni della Bay Area.
Dopo il diploma in composizione conseguito a Stanford nel 1969, si dedicò allo studio dell'arrangiamento con Tony Baker. Le sue prime importanti collaborazioni musicali iniziarono allora, con le big bands di Stan Kenton e Woody Herman, oltre che con alcune formazioni di latin-jazz come Atzeca o Malo. Particolarmente importante fu il periodo passato con Horace Silver (dal 1973 al 1977) col quale incise 5 albums, da lui indicato come fondamentale nella sua maturazione come strumentista e compositore.
Trasferitosi a New York nel 1977, Harrell iniziò a collaborare con grandi nomi del mondo jazzistico tra i quali Gerry Mulligan, Bill Evans, Mel Lewis, Charlie Haden Liberation Music Orchestra, Lee Konitz, Lionel Hampton, Joe Lovano. Dal 1983 e fino al 1989 entrò a far parte del quintetto del sassofonista Phil Woods col quale registrò vari album e che definì Harrell "il migliore musicista mai incontrato in 40 anni di carriera".
Fu dopo quella esperienza che Harrell inizò a dirigere propri gruppi con importanti collaboratori (Motian, Lovano, Berg, Liebman, Scofield etc..) ed a registrare splendidi album spesso premiati dai critici (Form, Stories, Sail Away, Visions, Passages, Upswing). Dall'album Labyrinth in poi i suoi lavori discografici sono imperniati su formazioni più estese fino ad arrivare alla big band utilizzata nell'ultimo CD dal titolo "Time's Mirror" (nominato per il Grammy award), dove Harrell mostra le qualità di compositore, esperto arrangiatore e raffinato trombettista .
Tom Harrell oltre che un notevole compositore (ha scritto per varie formazioni orchestrali di tutto il mondo) è considerato uno dei più grandi trombettisti del mondo del jazz. Le sue doti strumentali gli hanno spesso consentito di arrivare ai primi posti dei pools delle riviste specializzate ma è importante sottolineare il suo linguaggio improvvisativo di assoluto prim'ordine in un connubio unico tra lirismo, padronanza armonica e tecnica strumentale.
Born on June 16, 1946 in Urbana, Illinois, Tom Harrell moved with his family to Los Altos, on the San Francisco peninsula, in 1952. His father, a business psychologist, was on faculty at nearby Stanford University. Harrell picked up the trumpet at age eight and showed extraordinary precociousness. He was improvising immediately, which he enjoyed "because there didn't seem to be any rules." Influenced by hearing his parents' records of Duke Ellington, Louis Armstrong and others, he wanted to learn jazz. One of the first records he tried to transcribe was Charlie Parker's "Relaxing at Camarillo." Harrell was composing and arranging as early as the fifth grade, and was studying from Russell Garcia's text on arranging two years later.
He chose trumpet because he liked the sound. "Lee Konitz got me to transcribe Louis Armstrong solos,"he says. "I could see parallels between Louis' playing and Miles. The way they phrased, using short phrases, was unbelievably similar."
At 13, Harrell was playing professionally with groups around the Bay Area on both trumpet and piano. He also began sitting in at jam sessions which were attended by saxman Dewey Redman, trumpeter Eddie Henderson and others. He continued to play in public through high school and then moved to the Haight Ashberry district in the mid-'60s.
In 1963, the trumpeter attended Stanford, and it was around this time that his mental problems began to surface. Following a "halfway" suicide attempt, he was diagnosed as borderline schizophrenic and was placed on medication which helped him regain his emotional balance.
While at Stanford, from which he graduated in 1969 with a degree in music composition, Harrell also studied arranging with Tony Baker, who had been a pupil of Herb Pomroy, the noted bandleader-writer who has long taught at Berklee College of Music. "Tony showed me many things, like Duke Ellington's five-note voicings for saxophones,"the trumpeter says. "Also, I saw how you could make points in the melodies with voicings, then connect the points by writing harmonies as a result of melody."
From 1969-1970, Harrell toured with Stan Kenton and Woody Herman, then returned to the Bay Area, where he was a charter member of the fine Latin/jazz group, Azteca. He also played in Malo, a Latin/jazz/rock band led by Jorge Santana, guitarist Carlos Santana's brother. Then in 1973, he was hired by Horace Silver, with whom he played for five years, recording five albums, including Silver n' Brass. "I learned all the elements of music from him,"Harrell says of Silver. "He would always do material with different rhythmic feels--Latin, funk, straight ahead--and I've been influenced by that when I do things on my own. He's always so definite in his comping. I think it helped my rhythmic awareness because he's a master of rhythm."
After leaving Silver in 1977, Harrell, who by then settled in New York City, co-led a big band with the late bassist Sam Jones and worked with Gerry Mulligan, Bill Evans (he played on Evans' final album, We Will Meet Again on Warner Bros.), the Mel Lewis Orchestra, Charlie Haden's Liberation Music Orchestra and Lee Konitz' nonet. In 1983, he joined Phil Woods' quintet, recording such albums as Bouquet and Bop Stew for Concord Jazz.
Harrell departed Woods' ensemble in 1989 and has been leading his own bands since. His solo albums have included his debut, the out of print Aurora made in the late '70s, Moon Alley for Criss Cross, Form, Stories, Sail Away and Visions for Contemporary, and Passages and Upswing for Chesky.
These are all splendid albums, and serve as worthy predecessors to Labyrinth, a recording which should further spread the wondrous artistry of Tom Harrell. The album certainly presents what the musician calls his basic goals, to "find beauty in music and in life. What makes life worth living is beauty, and if you create something beautiful, you can help people because it's uplifting and spiritual. That beauty connects us with God, where all music comes from."
"His music just draws you to it. You hear it and you want to play it," offers drummer Bill Goodwin, who produced six of Harrell's previous recordings. There is a "jazz standards" quality to many of Harrell's songs, which have also been sought out by other musicians for their own recordings, including Kenny Barron, Art Farmer, Jim Hall, and Joe Lovano. Harrell's prolific pen has also been counted on for orchestral arrangements of originals, played by the Vanguard Jazz Orchestra, the Danish Radio Big Band, Cleveland Jazz Orchestra and most recently, the Dutch Metropole Orchestra. His songs are now available in print, in books published by Jamey Aebersold Jazz, Gerard & Sarzin, and Sher Music Company.
The honors and recognitions accorded to Harrell over the years are many: Down Beat magazine's critics and readers polls for trumpet every year since 1977 and for composer in 1995; JazzTime's critics' choice for his albums, VISIONS, PASSAGES, and UPSWING; JazzTime's readers poll for trumpet (#2 in 1995); Prix Oscar for FORM, awarded by the French Academy of Jazz; and nomination for the 1995 Danish JazzPar prize. But the reward for Harrell of course, is of a personal nature. Seeing himself less a creator of music than as a vehicle through which music can be transmitted, he observes, "Every time I play, I feel that if I'm a good vehicle, I'll be rewarded by being able to experience beauty." After all, as frequent cohort Joe Lovano says, "he doesn't just blow and finger the right note--he becomes each note he plays."