BEN ALLISON - contrabbasso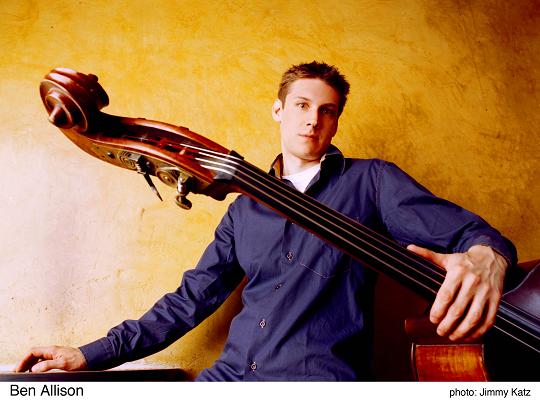 contrabbassista formidabile e compositore di rara sensibilità, segnalato tempo fa dal mensile Down Beat, la bibbia statunitense del jazz, come una delle "25 rising jazz stars for the future", di sicuro uno dei musicisti più interessanti e attivi sulla già ricchissima scena di NY, sarà di scena con il suo gruppo Man Size Safe con il quale ha appena inciso il nuovo cd "Little things run the world", edito dalla Palmetto Records, che presenterà a Formia nel corso del tour di anteprima europea.
Allison, più volte vincitore del Down Beat ed uno dei principali animatori del Jazz Composers Collective (associazione di stampo cooperativo sorta nel 1992), è dotato di una qualità organizzativa che non sempre si trova in un mondo come quello del jazz, che al naturale interplay della musica contrappone spesso un'immagine di forte individualismo dei suoi esponenti.
In fuga dalla neotradizione, dal free, dai rigidi contenuti delle big band ha cercato la sua dimensione in un eclettismo rocambolesco in grado di coniugare Mingus e Neil Young, il drum 'n' bass e la poliritmia africana in un percorso musicale originalissimo.
Ben Allison is a "visionary composer, adventurous improviser, and strong organizational force on the New York City jazz scene, [and] has emerged as a rising star over the past decade" (JazzTimes).
With his groups Peace Pipe, Man Size Safe, Medicine Wheel and the Kush Trio Ben has toured extensively throughout the US, Canada, Europe, and Brazil winning fans and building new audiences with an adventurous yet accessible sound and a flair for the unexpected.
Called "one of today's best young jazz musicians" by the Boston Globe, Ben has released seven albums of original music — Cowboy Justice (2006), Buzz (2004), Peace Pipe (2002), Riding the Nuclear Tiger (2001), Third Eye (1999), and Medicine Wheel (1998) on Palmetto Records, and his 1996 debut Seven Arrows on the Koch Jazz label — all of which showcase Ben's forward-thinking vision as a producer, composer, arranger, and bassist, and his hands-on approach to his craft.
Cited in the "Best Bassist" category of the 2005, 2006 and 2007 Downbeat Readers' Poll, Ben's work has not gone unnoticed by the press. Since 2003 Ben has been routinely listed in the Downbeat Critics' Poll in an extremely wide variety of rising star categories including "Bassist" (ranking #1 in 2006 and 2007), "Album," "Composer," "Acoustic Group," "Arranger," and "Jazz Artist of the Year," all of which is a testament to his dedication as a musician. "I see the the whole process — from assembling a band, writing and work-shopping the music, recording and mastering the album, doing the artwork and writing the notes, and then touring the project — to be all part of the process of musical expression." says Ben. "I enjoy every step as they all demand a certain kind of positive energy. And I get to collaborate with a wide range of very creative people."
Ben's most recent album Little Things Run the World, reached #1 on the CMJ National Jazz radio charts and has remained in the top 20 for over four months. His previous five albums, achieved similar radio success, being among the most played albums of the years in which they were released, garnering him 6 SESAC National Performance Awards, and have been named as among the best of the year by publications such as Billboard, The New York Times, The Boston Globe, The Village Voice, Jazz Times, Jazz Journalists Association,Downbeat Critics Poll, All About Jazz, Coda (Canada), and Jazz Review (UK), among many others.
At the age of twenty-five, Ben formed the Jazz Composers Collective — a musician-run, non-profit
organization based in New York City that is dedicated to constructing an environment where artists can exercise their ideals of creating and risking through the development and exploration of new music. As the Artistic Director and a Composer-in-Residence of the Jazz Composers Collective, Ben has produced or coproduced over 100 concerts and special events, including the Collective's annual concert series (which ran for eleven seasons), national and international tours by Collective artists, an on-going Collective residency at the Museum of Modern Art (MoMA, NYC), and an annual "Jazz Composers Collective Festival" at the Jazz Standard — which has drawn international attention as a mainstay of New York City's musical life. As a member of the Collective Ben has received commissioning, performing, and recording grants from Chamber Music America, the Mary Flagler Cary Charitable Trust, the National Endowment for the Arts, the Aaron Copland Foundation, Meet the Composer, and the American Composers Forum.
Born in 1966 in New Haven, Connecticut, Ben has performed the world over with musicians ranging from oudist Ara Dinkjian to saxophonist Lee Konitz to legendary performance artist Joey Arias. He has appeared on over 40 albums by various artists and has written music for film, national television and radio, including the theme for the National Public Radio (NPR) show On the Media and the score for Two Days, a play written by Pulitzer Prize-winning author Donald Margulies.

www.benallison.com