GEORGE GARZONE - sax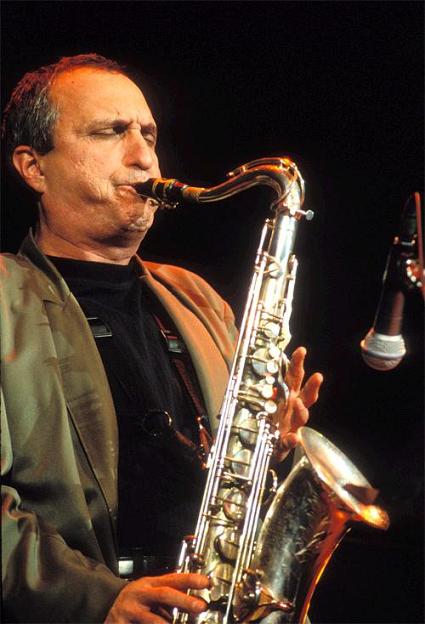 George Garzone, da diversi decenni uno dei migliori sassofonisti tenore al mondo, è nato e cresciuto a Boston in una famiglia di origine calabrese. Inizia a suonare il sax tenore all'età di sei anni, studiando musica dapprima come autodidatta e in seguito con Joe Viola fino al conseguimento del diploma presso il Berklee College of Music , dove ha tra i suoi compagni di studio Joe Lovano e Kenny Werner. Terminati gli studi Garzone parte in tour con la big band di Woody Herman e in seguito con il cantante pop Tom Jones prima di ristabilirsi a Boston e intraprendere un'intensa e proficua carriera di insegnante presso il Berklee College of Music, il New England Conservatory, la Longy School of Music, la New York University e la New School University. Profondo e universalmente stimato conoscitore dei materiali musicali e del linguaggio jazzistico, George Garzone ha tra l'altro elaborato un sistema improvvisativo denominato "approccio triadico cromatico" (triadic chromatic approach), avendo come propri studenti tra gli altri Joshua Redman, Branford Marsalis, Teodross Avery, Luciana Souza, Mark Turner, Donny McCaslin, Doug Yates e Danilo Perez. Nel 1972 ha formato il gruppo The Fringe, un trio con Bob Gullotti alla batteria e John Lockwood al contrabbasso, storica formazione tuttora attiva che ha condotto attraverso i decenni una riuscita e pregevole ricerca nell'ambito del jazz d'avanguardia, guadagnandosi un folto seguito di pubblico nell'area di Boston dove il gruppo si esibisce con regolarità, e divenendo col tempo un vera e propria cult band presso gli appassionati di tutto il mondo in virtù dei propri lavori discografici, dapprima autoprodotti e in seguito pubblicati dalla Soul Note e dalla dalla NYC Records. Tra le sue numerose collaborazioni musicali spiccano quelle con Kenny Barron, Harvie S, Danny Gottlieb, John Patitucci, Bill Stewart, Jamaaladeen Tacuma, Tom Harrell, Don Alias, Danilo Perez, Lenny White, Joe Lovano, Marvin "Smitty" Smith, Gary Peacock, Dennis Chambers, Anton Fig, Cecil McBee, Dave Holland, Stanley Cowell, George Russell, Gunther Schuller, Rachel Z, Jack DeJohnette, Billy Hart, Bob Moses, Dave Liebman e Mike Mainieri. Oltre ai lavori con The Fringe, George Garzone ha realizzato a proprio nome "One Two Three Four", "Moodiology", "Alone" e "Four's and Two's", pubblicati dalla NYC Records.

Saxophonist George Garzone is a member of The Fringe, a jazz trio founded in 1972 that includes bassist John Lockwood and drummer Bob Gullotti, that performs regularly in the Boston area and has toured Portugal. The group has released three albums. A veteran jazzman, Garzone has appeared on over 20 recordings. He began on the tenor when he was six, played in a family band and attended music school in Boston. In addition Garzone has guested in many situations, touring Europe with Jamaaladeen Tacuma and performing with Danilo Perez, Joe Lovano, Jack DeJohnette, Rachel Z and John Patitucci among others.
Garzone is well-known as a sought-after jazz educator, teaching at the Berklee College of Music, New England Conservatory, Longy School of Music, New York University and the New School University Jazz and Contemporary Program. He has pioneered the triadic chromatic approach and students of his have included Joshua Redman, Branford Marsalis, Teadross Avery, Luciana Souza, Mark Turner, Donny McCaslin, Doug Yates and Danilo Pérez, to name a few.
In 1995 he recorded a fine tribute to Stan Getz on NYC called Alone; Four's and Two's followed a year later with compatriot Joe Lovano which earned him four stars in Downbeat magazine, and in 1999 Garzone returned with Moodiology. Fringe in New York was released in summer 2000. He is a member of the Grammy-winning Joe Lovano Nonet, and performed and recorded with this group at the Village Vanguard in September 2002. George is endorsed by Rico Reeds.
back to top
PERFORMANCES WITH PROMINENT ARTISTS
George has performed with many prominent artists, too many to name. Listed below are a select few.
Saxophonists: George Adams, Jerry Bergonzi, Michael Brecker, Claire Daly, Kenny Garrett, Dave Liebman, Joe Lovano, Tony Malaby, Joshua Redman, James Spaulding, Stan Strickland, Frank Tiberi, Steve Wilson
Trumpet players: Randy Brecker, Tom Harrell, Eddie Henderson, Ingrid Jensen, John McNeil, Tiger Okoshi, Herb Pomeroy, Barry Ries
Trombonists: Bob Brookmeyer, Hal Crook
Pianists: Kenny Barron, Ran Blake, Joanne Brackeen, Jaki Byard, Joey Calderazzo, Chick Corea, Stanley Cowell, David Kikoski, Bevan Manson, John Medeski, (NEC Alum), Alan Pasqua, Danilo Pérez, Kenny Werner, Rachel Z
Guitarists: John Abercombrie, Mick Goodrick, Chuck Loeb, Ben Monder, Wolfgang Muthspiel, Martin Taylor, Barry Wedgle, David White
Drummers/Percussionists: Don Alias, Jeff Ballard, Brian Blade, Gary Chaffee, Dennis Chambers, Jack DeJohnette, Peter Erskine, Al Foster, Bob Gullotti, Billy Hart, Roy Haynes, Elvin Jones, Mel Lewis, Mike Mainieri (Vibes), Bob Moses, John Patitucci, Buddy Rich, Mickey Roker, George Schuller, Steve Smith, Jerry Steinhilber, Bill Stewart, Lenny White
Bassists: Ron Carter, Ray Drummond, Eddie Gomez, Larry Grenedier, Dave Holland, Dennis Irwin, Marc Johnson, John Lockwood, Cecil McBee, Christian McBride, Gary Peacock, Ed Schuller (NEC Alum), Harvie Swartz, Miroslav Vitous, Reggie Workman
Composers/Conductors: Gil Evans, Gunther Schuller, Carla Bley
Ensembles: The Carla Bley Big Band, Gil Evans Orchestra, The Fringe (with John Lockwood and Bob Gullotti), George Russell and the In Living Time Orchestra, The Joe Lovano Nonet, Medeski, Martin and Wood, Orange Then Blue, The Woody Herman Band
Non-jazz artists: Aerosmith, Music Aviva (Tribute to Kurt Weill), The Dells, Extreme, Aretha Franklin, Engelberg Humperdink, Tom Jones, Gladys Knight, Liberace, New Kids on The Block, Elvis Presley, The Temptations
back to top
NOTED STUDENTS
During his 30 years of teaching at institutions, George has taught countless of students. Listed below are a select few of his most noted students.

Saxophone/Woodwinds: Teadross Avery, Seamus Blake, Kenny Brooks, Chris Cheek, Dino Govoni, Branford Marsalis, Donny McCaslin, Bill McHenry, Andrew Rathbun, Joshua Redman, Scott Robinson, Chris Speed, Marcus Strickland, Mark Turner, Doug Yates
Bruce Barth, piano, Damian Draghici, pan flute, Danilo Pérez, piano, Antonio Sanchez, drums, Luciana Souza, voice, John Sullivan, bass, Chris Wood, bass, Manuel Valero, piano, Norm Zocher, guitar
back to top
VENUES PERFORMED
U.S. Venues:

Massachusetts: Acton Jazz Café, Berklee Performance Center, Isabella Stewart Gardner Museum, NEC's Jordan Hall, Middle East Café, Michael's Jazz Club, Natick Center for the Arts, The Regattabar, Ryles Jazz Club, Scullers Jazz Club, Wally's Café, The Western Front, Willow Jazz Club, The Zeitgeist Gallery
Maine: Center for Cultural Exchange (Portland), faculty at the Maine Jazz Camp (Farmington).
New York City, NY: The Blue Note, Birdland, Cornelia Street Café, The Guggenheim Museum, The Iridium (with the Carla Bley Big Band), The Jazz Standard, The Knitting Factory, Smith's Bar, Sweet Rhythms, The Village Vanguard (with the Joe Lovano Nonet)
Percussive Arts Society International Convention (PASIC) performer in Louisville, KY (2003) and Nashville, TN (2001).
Performed at the Grammy Awards Reception with Peter Erskine, Alan Pasqua and special guest Chick Corea, Los Angeles, CA (2004)
Performed with Peter Erskine at the International Music Products Association's (NAMM) Trade Show representing Shure Microphones Los Angeles Convention Center, CA (1999)
AS-220, Providence, RI.
Green Mill, Chicago, Ill.
Venues in Buffalo, NY, Hawaii, HI, Las Vegas, NV, Philadelphia, PA, San Antonio, TX Foreign Venues:
Italy: Umbria Summer Jazz Festival in Perugia (with George Russell In Living Time Orchestra), Umbria Winter Jazz Festival in Orvieto (with Joe Lovano Nonet), Terni Jazz Festival (with Frank Tiberi, Billy Hart and Dave Liebman), Rome Jazz Festival (with Billy Hart, Ray Drummond and James Spaulding), Catania (with the Woody Herman Band), Rocella Jazz Festival, venues in Iseo, Sicily, Trapani, Pescara and Milan.
France: Bordeax Jazz Festival, venues in Paris
Copenhagen Jazz Festival, Copenhagen, Denmark (1998-present)
Workshop for Jazz and Improvised Music (JIMS), Salzburg, Austria (2004, 2005)
Molde Jazz Festival, Norway (2003)
Helsinki Jazz Festival, Finland
Azures Jazz Festival, Portugal
Israel: Red Sea Jazz Festival, Tel Aviv Jazz Festival (with Peter Erskine)
Tribute to Coltrane Jazz Festival, various cities, Japan (with Dave Liebman, Michael Brecker, Joshua Redman), (1998)
Tour of South America with Danilo Pérez (including Panama, Curacao and Colombia), (1996)
Performances/workshops given at venues in Poland, Istanbul (Turkey), Sofia (Bulgaria), South Africa and Hong Kong
Discografia
AS A LEADER

Alone, NYC Records (1995); with Luciana Souza, voice; Chuck Loeb, guitar; David Kikoski, piano; Eddie Gomez, bass; Lenny White, drums.
Four's and Two's, NYC Records (1996); with Joe Lovano, saxophones; Joey Calderazzo, piano; John Lockwood, bass; Bill Stewart, drums.
Demetrio's Dream, Music by Gianni Pezzano, NL Records (1997)
Moodiology, NYC Records (1999); with Kenny Werner, piano; John Lockwood, bass; Bob Gullotti, drums; Claire Daly, baritone saxophone; Douglas Yates, alto saxophone, bass clarinet; Mike Mainieri, vibraphone.
The Fringe in New York, NYC Records (2000); with the Fringe and Mike Mainieri, vibraphone.
One Two Three Four, Stunt Records (2007); with Chris Crocco, guitar; Dennis Irwin, Bass; Pete Zimmer - Drums
Night of My Beloved, Venus Records (2007); with Kenny Werner and Trio de Paz: Romero Lubambo, piano; Nilson Matta, bass; Duduka da Fonseca, drums.
back to top
WITH THE FRINGE

The Fringe, Ap-Gu-Ga Records (1978)
Live! Ap-Gu-Ga Records (1980)
Hey Open Up (with special guest Ran Blake), Ap-Gu-Ga Records (1982)
The Raging Bulls, Ap-Gu-Ga Records (1986)
Return of the Neanderthal Man, Northeastern Records (1989)
It's Time for the Fringe, Soul Note Records (1992)
Live in Israel, Soul Note Records (1997)
Live in Iseo, Soul Note Records (2002)
The Fringe Live at the Zeitgeist (with special guest, Joe Lovano), Resolution Recordings (2005)
back to top
WITH OTHER ARTISTS (but not limited to those listed below)

George Russell and the In Living Time Orchestra: The African Game, Blue Note Records, (1983)
Mordy Ferber: Mr. X, Half Note Records (1985)
Bob Moses/Tsziji Munoz: Love Everlasting, Amulet Records (1987)
The Schulldogs: Tenor Tantrums, GM Recordings (1988)
Gunther Schuller/Orange Then Blue: Jumpin. in the Future, GM Recordings (1989)
Orange Then Blue: Where Were You? GM Recordings, (1989)
George Schuller: Looking Up from Down Below, GM Recordings (1990)
Wolfgang Muthspiel: Black and Blue, Amadeo Records (1992)
Danilo Perez: The Journey, Novus Records (1993)
Alex Deutsch (with Jamaaladeen Tacuma): Pink, Inc, DIW Records (1991)
Ingrid Jensen: Vernal Fields, Enja Records (1994)
Rachel Z: Room of One's Own, NYC Records (1996)
David White: Double Double, CIMP (1998)
Dave Bryant: The Eternal Hang, Accurate Records (1999)
Mike Mainieri: An American Diary Vol. 2: The Dreamings, NYC Records (1999)
Claire Daly: Swing Low, Koch Records (1999)
Luciana Souza: The Answer to Your Silence, NYC Records (1999)
Frank Tiberi: Tiberian Mode, NY Jam Records (1999)
Johnny Johansson: Boston Tea Party, BIBA Records (1999)
Various Artists: As Long as You're Living Yours: The Music of Keith Jarrett, Victor/RCA Records (2000)
Joe Lovano Nonet: 52nd Street Themes, Blue Note Records (2000)
Martin Taylor: Kiss and Tell, Sony Records (2000)
Jerry Steinhilber: Chicago Trio/New York Tenor, Soul Note Records (2001)
Barry Wedgle: Paradise, Exit Records (2001)
Dino Govoni: Breakin' Out, Whaling City Sound (2001)
Joe Lovano Nonet: On This Day: At the Vanguard (Live), Blue Note Records (2002)
Abby and Norm Group: Melodic Miner's Daughter, A to Z Music (2003)
Ayn Inserto Jazz Orchestra with Bob Brookmeyer and George Garzone: Clairvoyance, Self-published (2006)
Chris Crocco Fluid Trio: Fluid Trio, Self-published (2007)