ROBERTO GATTO - batteria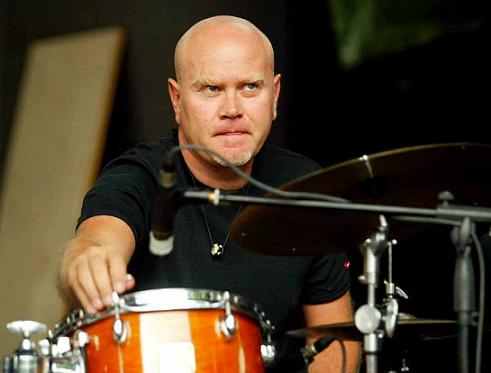 Nato A Roma il 6 ottobre 1958. IL suo debutto professionale risale al 1975 con il Trio di Roma (Danilo Rea, Enzo Pietropaoli). Ha suonato in tutta Europa e nel resto del mondo con i suoi gruppi ed insieme ad artisti internazionali. Le formazioni a suo nome sono caratterizzate, oltre che da un interessante ricerca timbrica, e un impeccabile tecnica esecutiva, da un grande calore tipico della cultura mediterranea. Questo fa sicuramente di Roberto Gatto uno dei più interessanti batteristi e compositori in Europa e nel Mondo.
Numerose sono le collaborazioni con Bob Berg, Steve Lacy, Johnny Griffin, George Coleman, Dave Liebman, Phil Woods, James Moody, Barney Wilen, Ronnie Cuber, Sal Nistico, Michael Brecker, Tony Scott, Paul Jeffrey, Bill Smith, Joe Lovano, Curtis Fuller, Kay Winding, Albert Mangelsdorff, Cedar Walton, Tommy Flanagan, Kenny Kirkland, Mal Waldron, Ben Sidran, Enrico Pieranunzi, Franco D'Andrea, John Scofield, John Abercrombie, Billy Cobham, Bobby Hutcherson, Didier Lockwood, Richard Galliano, Christian Escoudè , Joe Zawinul, Bireli Lagrene, Pat Metheny.
Come leader ha all'attivo nove album: Notes, Ask, Luna, Jungle Three, Improvvisi, Sing Sing Sing, Roberto Gatto Plays Rugantino. Da anni si dedica anche alla composizione di musiche da film realizzando, insieme a Maurizio Giammarco, la colonna sonora di "Nudo di donna" per la regia di Nino Manfredi, ed insieme a Battista Lena quelle di "Mignon è partita" di Francesca Archibugi vincitore di cinque David di Donatello, di "Verso Sera" e "Il grande cocomero" della stessa Archibugi.
Nel 1983 vince il referendum del mensile Fare Musica come "miglior batterista italiano". Nel 1985 e nel 1987 con il gruppo Lingomania si classifica al primo posto del referendum "Top jazz" indetto dalla rivista Musica Jazz nella categoria "Miglior gruppo". Nel 1988, 1989, 1990, nell'ambito dell'inchiesta "i vostri preferiti" a cura del mensile Guitar Club, è al primo posto della categoria "2 Batteristi". Nel 1993 realizza due Video didattici dal titolo "Batteria" vol. 1 e 2. Si è esibito recentemente nella prestigiosa sala della Town Hall a New York. E' stato direttore artistico del Teatro Dell'Angelo di Roma per la rassegna "Jazz in progess".
• PRINCIPALI CONCERTI E TOURNEE
Perugia, Umbria Jazz (partecipazione a dieci edizioni) Israele, Festival internazionale del Jazz di Gerusalemme 1989 Chicago, Chicago Jazz Festival 1989 Dhuram (North Carolina) Festival Jazz Duke University 1984 1985 1988 New York, Blue Note Jazz Club 1987 Parigi, Paris Jazz Festival, Olympia Londra, Ronnie Scott Jazz Club Boston, Berklee School Auditorium Antibes, Festival di Juan le pen Senegal, Festival de Dakar, Festival di S.Louis Marocco, tour per L'istituto di cultura Francese Festival Jazz di Fort de France (Martinica) Festival Jazz di Montreal (Canada) The Town Hall (New york) Villa Celimontana (Roma) Isola di La Reunion
Collaborazioni come sideman con: Mina, Lucio Dalla, Pino Daniele, Gino Paoli, Ivano Fossati, Gianni Morandi, Riccardo Cocciante, Ron, Mango, Renzo Arbore, Teresa De Sio, Ornella Vanoni, Sergio Caputo, Gilberto Gil, Mimmo Locasciulli, Riz Ortolani, Piero Umiliani, Franco Piersanti, Lalo Schifrin, Armando Trovaioli, Ennio Morricone, Domenico Modugno.
• RICONOSCIMENTI ARTISTICI
La sua biografia è inserita nella prestigiosa "Biographical Encyclopedia of Jazz" di Leonard Feather & Ira Gitler Miglior gruppo jazz italiano con Lingomania, 1985 1987 Referendum Top Jazz Mensile "Musica Jazz" Miglior batterista italiano 1983 mensile "Fare Musica" Miglior batterista italiano 1988, 1989, 1990 mensile "Guitar Club" Miglior batterista italiano 1992 mensile "Percussioni"
Nel 1992 partecipa, in qualità di solista, al Requiem per Pier Paolo Pasolini del Maestro Roberto De Simone (Napoli Teatro San Carlo, direttore Zoltan Pesko) Oltre al suo quintetto, lavora stabilmente nei gruppi di Enrico Rava Ha lavorato stabilmente nei gruppi del fisarmonicista francese Richard Galliano. Nel 1999 ha fatto parte del gruppo di Pino Daniele con cui si è esibito in un tour italiano. Nel 1997 viene chiamato dal direttore della francese "Orchestre National de Jazz" Laurent Cugny per un tour in Francia ed alcune date in Italia.

Discografia
LEADER
1986 Roberto Gatto feat. Michael Brecker "Notes" (Gala)
1987 Roberto Gatto feat. John Scofield "Ask" (Gala)
1989 Roberto Gatto "Luna" (Gala)
1989 Roberto Gatto, Danilo Rea "Improvvisi" (Gala)
1991 Roberto Gatto "Jungle Tree" (Gala)
1994 Roberto Gatto "L'Avventura" (CGD Warner)
1997 Roberto Gatto "7#" (BMG RCA)
1998 Roberto Gatto "Sing Sing Sing" (Via Veneto)
2001 Roberto Gatto "Plays Rugantino" (CAM Jazz)
2003 Roberto Gatto "Deep" (CAM Jazz)

Visita i siti ufficili di Via Veneto e CAM Jazz

CO-LEADER

1986 Lingomania "Riverberi" (Gala)
1987 Lingomania "Grr Xpanders" (Gala)
1988 D'Andrea, Tommaso, Gatto "Kick off" (Red Records)
1988 Rea, Testa, Tonolo, Gatto, Gibellini "Reunion" (Les folies art)
1991 D'Andrea, Tommaso, Gatto "Airegin" (Red Records)
1993 Roberto Gatto, Battista Lena "Il grande cocomero" (RCA)
1994 Gassmann, Battaglia, Zwiauer, Gatto "An Italian affair" (Unit Records)
1996 Giammarco, Gatto, Lande, Leveratto "Love Ballads" (Red Records)
SIDEMAN

1978 Bill Smith "Colours" (Edi Pan)
1978 Enrico Pieranunzi "From always to now" (Edi Pan)
1979 Claudio Fasoli "Hinterland" (Edi Pan)
1979 Enrico Pieranunzi meets Chet Baker "Soft Journey" (Edi Pan)
1980 Art Farmer "Isis" (Soul Note)
1980 Enrico Pieranunzi "Jazz Roads" (CAM Jazz)
1980 Ennio Morricone "II bandito dagli occhi azzurri" (CAM Jazz)
1982 Curtis Fuller "Meets Roma Jazz Trio" (Timeless)
1982 Bob Berg "Steppin' Live in Europe" (Red Records)
1982 Teresa de Sio "Teresa de Sio" (Polygram)
1982 Maurizio Giammarco Quartet "Precisione della notte" (Riviera Records)
1984 Pietro Tonolo "Quartet Quintet Sextet" (Splasch)
1984 Furio di Castri "Things" (Fonit Cetra)
1985 Marcotulli, Tonolo "Un'altra galassia" (Fonit Cetra)
1985 Eddy Palermo "Ganimede" (Edi Pan)
1986 Lingomania "Riverberi" (Gala)
1987 Massimo Urbani "Easy to love" (Red Records)
1987 Pieranunzi, Pietropaoli, Gatto "Moon Pie" (YVP)
1988 Phil Woods "Embraceble You" (Philology)
1988 Sal Nistico "Empty Room" (Red Records)
1988 Giovanni Tommaso quintet "To Chet" (Red Records)
1988 Stefano Sabatini "Memories" (The smoke salesmen)
1988 Umberto Fiorentino "Inside Colors" (Gala)
1988 Riccardo Mei "My funny Valentine" (Philology)
1989 Piana, Valdambrini Sexet "omonimo" (Pentaflowers)
1989 Maria Pia De Vito "Hit the best" (Phrases)
1989 Gianantonio de Vincenzo "La fiaba dell'orso" (Splasch)
1989 Enzo Pietropaoli "Orange Park" (Gala)
1989 Mimmo Locasciulli "Adesso glielo dico" (RCA)
1989 Roberto Gatto Quartet compilation dedicata a Lucio Battisti "Ci ritorni in mente" (Gala)
1990 Enrico Rava "What a day" (Gala)
1990 Rava, Pieranunzi, Pietropaoli, Gatto "Bella" (Philology)
1990 Franco Piana Big Band "Conversation" (Pentaflowers)
1990 AA.VV. "Guitar Madness" (Sound Placet)
1991 Chet Baker "Chet on poetry" (EMI)
1991 Phi Woods "Live at Corridonia" (Philology)
1991 Stefano Battaglia "Confession" (Splasch)
1991 Mina "Caterpillar" (PDU)
1991 Massimiliano Pani "L'occasione" (PDU)
1991 Stefano Sabatini "Wonderland" (Splasch)
1993 Massimo Urbani "The Blessing" (Red Records)
1993 Giovanni Tommaso Quintet "Over the ocean" (Red Records)
1993 Gegè Telesforo "Gegè and the Boparazzi" (Go Jazz)
1993 Damiani, Fresu, Trovasi, Gatto "ESO" (Splasch)
1994 Mario Raja Big Bang "Ellington" (Splasch)
1994 Joe Lovano Quartet "Josie and Rosie" (Compilation)
1995 Stefano Battaglia Trio "Unknown Flame" (Splasch)
1995 Giovanni Tommaso quintet "Strane stelle strane" (RCA)
1995 Gianni Lenoci Trio "Existence" (Splasch)
1995 Claudio Cusmano "Cammino Personale" (Caligola)
1995 Triotherapy "omonimo" (Cafè Voltaire)
1995 Aldo Farias "Heart Lake" (Splasch)
1996 Francesco Lo Cascio "Víbes Trio" (Via Veneto)
1996 Mauro Monti "The box of memories" (Suisa)
1996 Ermanno Signorelli "Ad occhi chiusi" (Caligola)
1996 Roberto Ciotti "Changes" (Il Manifesto)
1996 Nico Morelli "The Dream" (Splasch)
1997 Rita Marcotulli "The woman next door" (Label Blu)
1997 Paolo Fresu "Angel" (BMG France)
1997 Mario Raja Big Bang "Dodici Storie" (Splasch)
1998 Paolo Fresu "Metamorfosi" (BMG France)
1998 Zeppetella, Bex, Gatto "A tribute to Wes Montgomery" (Philology)
1998 Mario Piacentini "Le note di San Lorenzo" (Splasch)
1998 Aldo Farias "Free Hands" (Splasch)
1999 Stefano D'Anna "Carousel" (Splasch)
1999 Rava, Fresu Quintet "Shades of Chet" (Via Veneto)
2000 Frank Avitabile "Right time" (Dreyfuss)
2000 Tommaso, Rava Quartet "La Dolce Vita" (CAM Jazz)
2000 Ivano Fossati "La disciplina della terra" (Sony)
2000 Franco Ambrosetti "Grazie Italia" (Enja)
2000 Barbara Casini, Enrico Rava "Vento" (Label Bleu)
2000 Stefano Bollani "Abbassa la tua radio" (Heritage)
2001 Salvatore Bonafede "Ortodoxa" (Red Records)