HEIN VAN DE GEYN - contrabbasso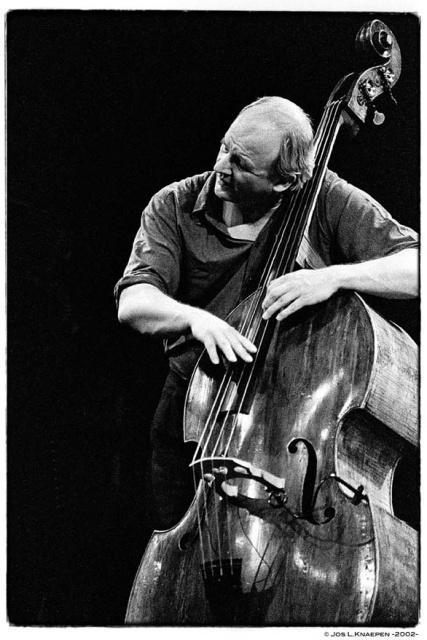 was born in 1956 in Holland. He played music from a very early age on. He was classically trained by studying the violin for 15 years. On the side Hein played guitar and played Pop and the Blues. In his late teens he picked up the bass-guitar and became interested in Jazz.
Soon Hein was working with some of the Dixieland-bands in the south of Holland, but also formed his first bebop group. With this group he received the award as "best soloist" at the contest on the 1977 Laren Jazz festival. It was after this that he decided to pick up the double bass, and really pursue his career as a Jazz musician. In the meantime though he finished his classical music studies at the conservatory of Tilburg.
After gaining much experience in all kinds of styles, Hein went to the USA in 1980 to tour with Mark Lewis. He decided to move there and did so after graduating, as the first in the country, from the Jazz-department of the Rotterdam conservatory, where he studied with Koos Serierse.
After living in Seattle for a while and being much inspired by Gary Peacock, he moved to San Francisco in 1981. Here he was in a band with John Abercrombie and Larry Schneider, played with many great musicians, recorded some albums, and generally learned a lot about the reality of being a Jazz musician.
In 1983 Hein returned to Europe and has since been establishing himself as one of the most sought after bass players in Europe. He has been playing bass with Philip Catherine since 1985, and recorded 8 CD's with him. Hein has played all over Europe and in Africa, Israel, Rumania and Thailand with Philip.
In 1987 he toured and recorded in Japan with Chet Baker. In 1988 Hein started to play with, and arrange for Dee Dee Bridgewater, with whom he has been performing at most of the important festivals and stages in Europe (Montreux, Antibes, Vienne, Berlin, Northsea, London ....) as well as in the USA (Carnegie Hall, Village Vanguard, Montreal, Newport Festival ......) and Japan (Keystone Corner, Blue Note). After three albums and numerous tours and performances Hein decided to leave Dee Dee in 1996 to pursue his own career as a leader.
Besides these activities, Hein has worked as a free-lance side-man with many great players, has taught clinics from time to time, and has been the bass player on some 80 records. Hein is constantly writing tunes - many of them are recorded - and arranges for bigger ensembles from time to time. He has also played a number of solo-bass performances.
In July 1990 Hein made the first album under his own name, a duo with Lee Konitz. Several tours followed. In 1994 he created his group BASELINE with John Abercrombie and Joe LaBarbara. This group recorded several albums, all with Hein's original compositions, and toured all over Europe.
1994 was also the year in which Hein co-founded with Anne de Jong and Joost Leijen the Jazz label CHALLENGE JAZZ, for which he has produced, and is still producing, a growing number of successful recordings. Two of them in fact received an Edison (Denise Jannah in1994, Eric Vloeimans in1999) for best recording of the year. In 2004 Hein became the sole owner of Challenge Jazz Records and is slowly expanding the catalogue.
In 1996 Hein became the head of the bass section in the Jazz department of the Royal Conservatory in The Hague. Teaching is becoming a bigger part of his life now. He taught bi-monthly for 2 years at the Escola Superior di Musica in Barcelona, and has been the mainstay at the Bass Clinics in Cap Breton since 10 years now, next to the likes of Eddie Gomez, Niels Henning زsted Pedersen, Ron Carter, George Mraz, Renaud Garcia-Fons.
In 1996 Hein was awarded the prestigious Prins Bernhard Fonds Music Prize. He received this prize for his importance in the development of European Jazz as well as for his stimulating role as mentor and producer of many young musicians in Holland and abroad. One of the projects Hein could realize from this Award, was the construction of his: Baseline Theater, a meeting place for young musicians, where rehearsals, mini-concerts and informal meetings take place.
In 1998 Hein received the Bird Award at the Northsea Jazz Festival. In this year he was also elected as "Best European Acoustic Bass Player" by a referendum of the Belgian radios RTBF and VRT.
With singer Paulien van Schaik Hein formed a very succesful duo in 1999. They recorded some CDs together and at this point are working on a project with viola and cello. In 2004-2005 they were part of the Jazz Impulse series, an initiative that put 120 Jazz concerts in all the important theaters in Holland.
During a sabbatical period spent in South Africa in 2001/2002 Hein wrote his "Comprehensive Bass Method". This extensive method on bass playing (1000 pages) will come available in 2005. :::

Discografia
Leader
Deja Vu
Recorded 2000
Challenge Records CHR 70067
Hein Van de Geyn - bass
Ed Verhoeff - guiter
Hans van Oosterhout - drums
--------------------------------------------------------------------------------
Hein Van de Geyn
Woodwind Works
Recorded 1999
Challenge Records SACHR 75028
Hein Van de Geyn - bass
Bert van den Brink - piano
Frank Hendrickx - flute
Joris Van den Hauwe - oboe
Rik Baekelandt - clarinet
Rik Vercruysse - french horn
Francis Pollet - bassoon
--------------------------------------------------------------------------------
Baseline
Returns
Recorded 1996
Challenge Records CHR 70047
John Ruocco - clarinet
John Abercrombie - guiter
Hein Van de Geyn - Bass
Joe Labarbera - drums
--------------------------------------------------------------------------------
Baseline
Standards
Recorded 1995
Challenge Records CHR 70023
John Abercrombie - guiter
Hein Van de Geyn - Bass
Joe Labarbera - drums
--------------------------------------------------------------------------------
Baseline
Why Really
Recorded 1994
Challenge Records CHR 70002
John Abercrombie - guiter
Hein Van de Geyn - Bass
Joe Labarbera - drums
Dee Dee Bridgewater - vocals
--------------------------------------------------------------------------------
Van de Geyn / Konitz
Meets
Recorded 1990
September / Fever Music CD 5110
Lee Konitz - alto/soprano saxophone
Hein Van de Geyn - bass