GARY VERSACE - organo, piano, fisarmonica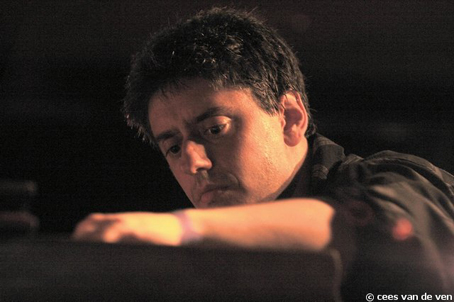 Musicista molto richiesto per la straordinaria versatilità e musicalità, vanta collaborazioni con musicisti del calibro di John Soffield, John Abercrombie, Adam Nussbaum, Maria Schneider Jazz Orchestra, Chris Potter, Michael Blake, Andy LaVerne, Theo Bleckmann, Eliot Zigmund, Ingrid Jesen senza dimenticare il due piano-recital con Marlan McPartland e la collaborazione con il noto bassista David Friesen, nonché le sue performance in duo con Kendra Shank.
Since basing himself in New York City in June of 2002, jazz organist, pianist, and accordionist Gary Versace has quickly become one of the busiest and most versatile musicians on the scene, often featured in bands led by musicians such as John Scofield, John Abercrombie, Maria Schneider, Matt Wilson, Eliot Zigmund, Scott Wendholt, Joe Magnarelli, Danny Gottlieb, Seamus Blake, Andy LaVerne, Adam Nussbaum, Brad Shepik, Ingrid Jensen, Tim Ries and many others.
Versace was recently partnered with Lee Konitz on a duo recording by the lengendary saxophonist, release date TBA, and also recently completed a six week Asian and European tour with guitarist John Scofield. Also, he will tour Europe with guitarist John Abercrombie and drummer Adam Nussbaum in July of 2006.
Versace was voted a "rising star" on the Hammond organ in the 2005 and 2004 Downbeat critics polls, and was the subject of a feature article in the July 2004 issue of Keyboard magazine.
Versace has been a featured soloist on two critically acclaimed recordings of recent years: accordionist on Maria Schneider's Grammy-winning "Concert in the Garden," and as the pianist on John Hollenbeck's Grammy-nominated large ensemble recording, "A Blessing."
Versace has recorded two albums as a leader on Hammond organ for SteepleChase records: the first features guitarist John Abercrombie, drummer Billy Hart, and saxophonist Rich Perry; the second a trio date with Dick Oatts on alto, tenor, and soprano saxophones and Matt Wilson on drums. He also recently completed a piano trio record for the Japanese label M & I featuring bassist Johannes Weidenmueller and drummer Billy Drummond.
Over the past five years, Versace has appeared as a sideman on over 30 recordings with artists on labels including ACT, Omnitone, High Note, Justin Time, ArtistShare, Fresh Sound, Steeplechase, and Criss Cross, among others.
Versace co-led the band "Project O" with trumpeter Ingrid Jensen (featuring saxophonists Seamus Blake and Steve Wilson) whose first recording on Justin Time records, "Now As Then," was released in May of 2003 and received 4 stars in Downbeat magazine.
As a pianist, Versace performed in a two-piano recital with Marian McPartland, and in April of 1999 appeared on her acclaimed National Public Radio program, "Piano Jazz." McPartland has called him "...endlessly inventive...(Versace) really has an extraordinary talent."
Gary Versace has a masters degree in music performance from the Eastman School of Music, and spent eight years as a tenured associate professor in the jazz studies department at the University of Oregon. He remains active as a clinician and guest soloist both nationally and around the world.

Discografia
Recordings as a leader

"Time and Again" (Steeplechase 31572), featuring John Abercrombie, Rich Perry, and Billy Hart.
A "blowing date," featuring six originals and one tune of Abercrombie's.
Recordings as a sideman
"It Could Be Anything" (Fresh Sound New Talent 230), with the Loren Stillman Quartet.
I play piano in this quartet featuring Loren's brilliant writing and alto playing, Scott Lee on bass,
and Jeff Hirshfield on drums.
"New For Now" (Criss Cross 1266), with the Jonathan Kreisberg trio.
Organ trio featuring Jonathan Kreisberg on guitar, and Mark Ferber on drums.
Jonathan's tunes, plus a couple of standards.
"John Hollenbeck Large Ensemble: A Blessing" (OmniTone 15209).
I play piano on this one...it features John's beautiful writing for big
band, and the work of many talented soloists including Theo Bleckmann,
Chris Speed, Kermit Driscoll, Matt Moran, and several others.
"Concert in the Garden" (artistShare), the Maria Schneider Orchestra.
I play accordion on the first piece, trading phrases with pianist
Frank Kimbrough. Amazing writing, an incredible band. Maria used the accordion
in such a cool way...the ensemble parts were as much fun to play as the solo.
This record was a Grammy-winner - congratulations to Maria!!
"Live at One Station Plaza," the Jay Azzolina trio.
This is an organ trio featuring Jay's compositions, arrangements, and guitar playing, myself on organ,
and Adam Nussbaum on drums. It was recorded live in Peekskill, NY in December of 2001.