ADAM NUSSBAUM - batteria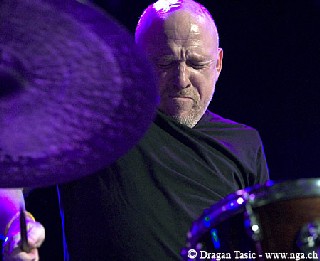 Il newyorkese Adam Nussbaum è uno dei turnisti più serie e preparati del modno del jazz contemporaneo. Le incisioni dei canali "mainstream" e "fusion oriented", alle quali ha partecipato, sono migliaia e tutte di un'importanza "totale".
E' nato il 29 novembre 1955. Musicalmente è "cresciuto" iniziando a suonare il pianoforte, ma la sua curiosità "sonora", lo ha anche portato ad avvicinare sassofono e contrabbasso. Gli anni di studio lo vedono protagonista al Davis Center e al prestigioso City College of New York, dal quale esce con un ingaggio con John Scofield (con il quale lavora dal 1978 al 1983) e Dave Liebman (1978-1981). Dopo aver suonato con Stan Getz (1982-83), dal 1984 lavora invece con l'orchestra di Gil Evans e poio con le formazioni di Randy BRecker e Eliane Elias.
Altre collaborazioni degne di nota sono sicuramente quelle che lo hanno visto accanto a Gary Burton, George Gruntz, Art Pepper, Joe Henderson, Sonny Rollins, Art Farmer, Eddie "Lockjaw" Davis, Bob Brookmeyer, John Abercrombie, Lee Konitz, Al Cohn, Hal Galper, Sheila Jordan, Steve Swallow, Michael Brecker, Carla Bley, Mike Stern, Jerry Bergonzi e Don Grolnick.

Adam Nussbaum grew up in Norwalk Connecticut and started to play drums at age 12 after studying piano for 5 years, also playing bass and saxophone as a teenager. He moved to New York City in 1975 to attend The Davis Center for Performing Arts at City College. While there he began working with Albert Dailey, Monty Waters, Joe Lee Wilson, Sheila Jordan and he played with Sonny Rollins in 1977 in Milwaukee. In 1978 he joined Dave Liebman's quintet and did his first European tour with John Scofield. During the early eighties he continued working with John Scofield in a celebrated trio with Steve Swallow. In 1983 he become a member of Gil Evans Orchestra and played with Stan Getz as well. He later joined Eliane Elias/Randy Brecker Quartet, Gary Burton, and Toots Thielemans. In 1987 he began touring with the Michael Brecker Quintet. In 1988 they recorded the Grammy winning "Don't Try This At Home" During 1992 he was part of the Carla Bley Big Band and that same year John Abercrombie hired him to complete his organ trio with Dan Wall.
Since then he's keeping active with Abercrombie, Joe Sample Trio, James Moody Quartet, 'We Three' w/ Dave Liebman & Steve Swallow and also busy maintaining an active freelance schedule. Adam has taught as an Adjunct professor at New York University, the New School and State University of New York at Purchase. He's also done clinics and master classes around the world.

Discografia
Associations...
We Three 2004 - present
(Dave Liebman, Steve Swallow, Adam Nussbaum)
James Moody Quartet 1996 - present
Joe Sample Trio 2003 - present
John Abercrombie Trio & Quartet 1991 - present
Jerry Bergonzi Quartet 1989 - present
Markus Fleischer / Ulli Jünemann Quartet 2003 - present
Sigurd Ulveseth Quartet 1994 - present
Steve Swallow Quintet & Trio 1996 - 2001
Kenny Wheeler Quartet 1996 - 2003
Rita Marcotulli Trio 2002 - 2004
Miroslav Vitous Quartet 2004 - 2005
Niels-Henning Ørsted Pedersen Trio 1992 -1996
Beirach/McClure Trio 1985 - 1994
'Toots' Thielemans Quartet 1986 -1995
Eliane Elias Trio 1988 - 1994
The Doky Brothers 1989 - 1993
Bob Berg Quartet 1993
Very Big Carla Bley Band 1992
Michael Brecker Band 1987 - 1990
George Gruntz Concert Jazz Band & Trio 1984 - 1997
Mike Stern Trio 1985 - 1988
Gil Evans Orchestra 1983 - 1986
Randy Brecker /Eliane Elias Quartet 1984 - 1985
Gary Burton Quartet 1985
Stan Getz Quartet 1982 - 1984
Bob Brookmeyer Sextet 1982 - 1983
John Scofield Trio & Quartet 1978 - 1983
David Liebman Quintet 1978 - 1981
Freelance Work...
Jeff Berlin, Dee Dee Bridgewater, Hank Crawford,
Eddie Gomez, Don Grolnick, Joe Henderson,
Bobby Hutcherson, Sheila Jordan, Steve Kuhn,
Charles Lloyd, Chuck Mangione,
David (Fathead) Newman, Caecilie Norby,
John Patitucci, Art Pepper, Kenny Rankin,
Sonny Rollins, David Sanborn, Marlena Shaw,
Phil Woods, Bohuslan Big Band, WDR Big Band,
Danish Radio Big Band,
Big Band de Lausanne & the American Jazz Orches