KEVIN HAYS - pianoforte, fender rhodes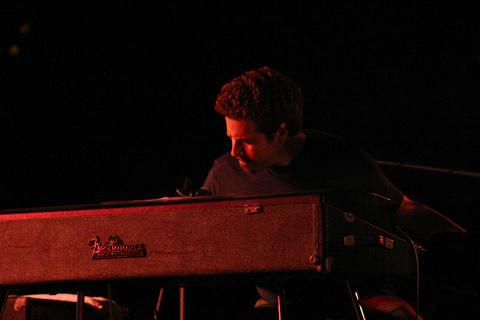 Nato nel 1968 a New York e cresciuto nel Connecticut, inizia a suonare il piano all'età di sei anni e inizia a suonare professionalmente all'età di quindici anni. A diciassette anni viene scritturato nel gruppo di Nick Brignola. Dopo un anno trascorso presso la Manhattan School of Music, inizia a effettuare tournée in tutto il mondo con vari gruppi tra cui The Harper Brothers, Benny Golson, Joe Henderson e Eddie Gomez. Nel 1994 firma un contratto con la Blue Note, per la quale realizza tre albums che ricevono grandi apprezzamenti sulla stampa e da parte della critica specializzata. Uno di questi "Andalucia", inciso in trio con Ron Carter e Jack DeJohnette ottiene la valutazione di quattro stelle su DownBeat Magazine. Nel 1995 entra a far parte del gruppo di Sonny Rollins. Oltre a numerose altre collaborazioni che includono John Scofield, Roy Haynes, Joshua Redman, Freddie Hubbard, Al Foster, Buster Williams, Chris Potter e Art Farmer, Kevin Hays è anche leader di un proprio trio con Doug Weiss e Bill Stewart, e uno dei componenti di Sangha, un quartetto comprendente Seamus Blake, Larry Grenadier e Bill Stewart.
Pianist/Composer Kevin Hays has recorded 10 CDs as a leader and is featured on dozens of recordings with a variety of leading Jazz artists. Included in his leader discography are 3 critically acclaimed recordings for Blue Note Records. His 'Seventh Sense' was praised by The New York Times and recognized as one of the 'Top 40 Jazz Releases of the Year' by Musician Magazine.
Kevin has performed and recorded with some of the most prominent and influential musicians in Jazz. These include Sonny Rollins, John Scofield, Benny Golson, Roy Haynes, Chris Potter, Al Foster, Joe Henderson, Buster Williams, Art Farmer and Joshua Redman.
Born May 1st of 1968 in New York City and raised in Connecticut, he began studying piano at the age of 6 and was playing professionally by 15. At 17 he began playing with baritone saxophone great Nick Brignola. After spending a year at The Manhattan School of Music, he began traveling in the U.S., Japan, and Europe with various bands including The Harper Brothers, Benny Golson, Joe Henderson and Eddie Gomez. In 1995 Sonny Rollins invited him to join his group; a year and a half later he began touring with guitarist John Scofield in his celebrated 'Quiet' band.
Today, Kevin continues to perform worldwide in Solo concerts, with his Trio which includes bassist Doug Weiss and drummer Bill Stewart, and with The Sangha Quartet which features Seamus Blake, Larry Grenadier, and Bill Stewart. He also conducts Master Classes in the U.S. and overseas.
Kevin's recent recording activity includes a new Solo Piano CD 'Open Range' on the ACT label; the launching of PinonDisk Records, his own label on which he has released his latest Trio CD 'What Survives'; and a new trio project with the groundbreaking web-based company, ArtistShare.com which is set for release in the Fall of 2006.

Discografia
Blue Note Plays The Beatles
And I Love Her


One Little Song
Spinster
Eli Degibri - Tenor & Soprano Saxophones, Vocals
Kevin Hays - Piano, Vocals


Sangha Quartet 'Fear of Roaming'
The Modern Things
Kevin Hays -Piano, Fender Rhodes,
Voice, Wood Flute
Seamus Blake - Saxophones
Larry Grenadier - Bass
Bill Stewart - Drums

Open Range
Kevin Hays- Piano/Fender Rhodes/Vocals


What Survives
Kevin Hays - Piano
Doug Weiss - Bass
Bill Stewart - Drums


Andalucia
Kevin Hays - Piano
Ron Carter - Bass
Jack DeJohnette - Drums


Go Round
Kevin Hays - Piano, Fender Rhodes
Seamus Blake - Tenor/Soprano Saxophones
Steve Hall - Tenor Saxophone
Doug Weiss - Bass
Billy Hart - Drums

7th Sense
Kevin Hays, Piano
Seamus Blake, Tenor & Soprano Saxophones
Doug Weiss, Bass
Brian Blade, Drums
Produced by John Scofield


Crossroad
Kevin Hays - Piano
Scott Wendholt - Trumpet, Flugelhorn
Freddie Bryant - Guitar
Dwayne Burno - Bass
Carl Allen - Drums


Ugly Beauty
Kevin Hays- Piano
Larry Grenadier - Bass
Jeff Williams - Drums

SweetEar
Kevin Hays - Piano, Fender Rhodes
Eddie Henderson - Trumpet
Vincent Herring - Alto/Soprano Saxophones
James Genus - Bass
Joe Chambers - Drums


El Matador
Nobilissima Visione
Kevin Hays - Piano
Joe Henderson - Tenor Saxophone
Steve Wilson - Alto Saxophone
Scott Colley - Bass
Bill Stewart - Drums