JOHN ABERCROMBIE - chitarra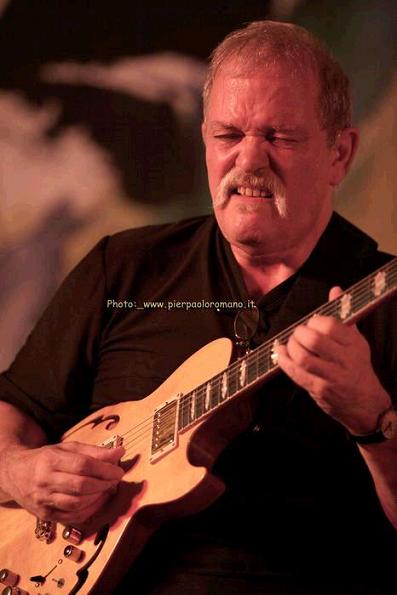 Indiscusso specialista di primissimo piano della chitarra jazz da almeno tre decenni, John Abercrombie è nato nel 1944 a Port Chester, nello Stato di N.Y. Dopo aver suonato in band studentesche, studia al Berklee College of Music di Boston, ottenendo la prima scrittura professionale nel gruppo dell'organista Johnny "Hammond" Smith. In seguito milita in uno dei gruppi seminali del jazz-rock, i Dreams, trovandosi fianco a fianco dei fratelli Brecker e del batterista Billy Cobham.
Negli anni Settanta suona con l'orchestra di Gil Evans, Gato Barbieri, Chico Hamilton ed Enrico Rava. Nello stesso decennio entra in contatto con il produttore Manfred Eicher, diventando uno degli artisti di punta della ECM, alla quale è tuttora legato. Per l'etichetta tedesca registra quindi dischi importanti come Timeless e Sargasso Sea (in duo con Ralph Towner), significativi documenti del suo stile del periodo, così come lo sono gli album realizzati con Dave Holland e Jack DeJohnette, ovvero il trio Gateway, supergruppo ricostituito negli anni Novanta.
Negli anni Ottanta, Abercrombie forma un altro trio di grande valore, con Marc Johnson al contrabbasso e Peter Erskine alla batteria; più recente è invece il gruppo con Dan Wall all'hammond e Adam Nussbaum alla batteria. Anche la nuovissima formazione del chitarrista ha tutte le caratteristiche della all stars band; la compongono infatti oltre all'autorevole leader, il violinista Mark Feldman, figura di spicco della scena newyorkese, Marc Johnson, noto per essere stato uno degli ultimi collaboratori di Bill Evans, e uno dei più fantasiosi batteristi attualmente in circolazione, Joey Baron; insieme a loro Abercrombie ha registrato il suo ultimo album dal titolo Cat'n' Mouse.
Solista raffinato, il cui stile è una compiuta sintesi tra la moderna scuola della chitarra jazz ed elementi presi dal rock, Abercrombie ha anche all'attivo una proficua collaborazione con il sassofonista Charles Lloyd, insieme al quale ha registrato gli album Voice in the night, The water is wide e Hyperion with higgins.
Born 1944 in Port Chester, NY, John Abercrombie grew up in Greenwich, Connecticut, and began playing the guitar at the age of fourteen. By the time he was out of high school, he was ready to veer away from imitative Chuck Berry licks in favor of learning to play the instrument more seriously. While enrolled at Boston's Berklee College of Music, Abercrombie worked with other students and played local clubs and bars. "it was pretty much your standard guitar-organ-drums set up."
An offer to tour with organist Johnny Hammond led to his going on the road for weeks at a time, playing such spots as Count Basie's Lounge and the Club Baron in Harlem. During that same period, Abercrombie met the Brecker Brothers who were in the process of forming Dreams. They invited Abercrombie to play with them, and he was heard on Dreams' debut album on Columbia.
In 1969, following graduation from Berklee, Abercrombie decided to head south in hopes of breaking into the New York music scene. In the next few years he developed into one of New York's most in-demand session musicians. He recorded with Gil Evans, Gato Barbieri, Barry Miles and many other artists, and also became a regular with Chico Hamilton's group.
It was as the guitarist in Billy Cobham's band that Abercrombie first began attracting widespread attention among the general public. This ensemble was something of a Dreams reunion since it also featured the Brecker Brothers. Abercrombie is heard on Cobham's Crosswinds, Total Eclipse and Shabazz albums. He found himself playing large concert halls and arenas, on bills with such top rock attractions as the Doobie Brothers. "One night we appeared at the Spectrum in Philadelphia and I thought, what am I doing here?"
A short time later, at the Montreux Festival, Abercrombie ran into Manfred Eicher who invited him to record an album for ECM, The result was Timeless, on which he was joined by Jan Hammer and Jack DeJohnette. It received virtually unanimous critical acclaim. Gateway was released in November 1975; it marked the first collaborative effort of Abercrombie with DeJohnette and bassist Dave Holland. A second Gateway recording was released in June 1978. In 1979, Abercrombie formed his own quartet, which included pianist Richie Beirach, bassist George Mraz and drummer Peter Donald. The group has made three recordings: Arcade, Abercrombie Quartet, and M.
Abercrombie has also recorded with many other ECM artists; the most significant collaborations must surely be with drummer Jack DeJohnette (Abercrombie appears on all of DeJohnotte's Directions and Now Directions albums) and with fellow guitarist Ralph Towner. Abercrombie and Towners Sargasso Sea was released in 1976 and Five Years Later in 1982.
Abercrombie's touring trio with Mark Johnson and Peter Erskine is heard on Current Events, Getting There (with frequent guest Michael Brecker) and John Abercrombie/Marc Johnson/Peter Erskine. Critic, Chuck Berg has described the group as "solidified ... to the point where its sixth-sense interactions create a singleness of vision associated only with Olympian ensembles such as the trios of pianists Bill Evans and Oscar Peterson". On Current Events, released in 1988, John used guitar synthesizer for the first time on record. John Abercrombie/Marc Johnson/Peter Erskine, released in 1989, was recorded in Boston on April 21, 1988 and documents this innovative trio, live. Repertoire from their four-year association is presented, and standards often linked with Bill Evans are given resplendent treatment. On the 1990 release Animato, John collaborates with composer/synthesist, Vince Mendoza and drummer John Christenesen, and presents eight original compositions.
John's affinity for jazz standards complements his role as an active clinician and teacher. While preparing for a Harvard lecture, where John surveyed the history of jazz guitar, he explained 'When I'm playing tunes like Autumn Leaves or Stella By Starlight, as much as I've played those tunes over the years, I still enjoy playing them. And because I know them so well, I'm very free with them. I'm just as free with them as when I'm playing no chords at all. That, to me, is free jazz,"
John Abercrombie possesses a unique voice as a jazz guitarist combining evolving technologies with a tradition well represented by jazz standards. Further insight from a 1988 Jazziz interview:
Carrying on the tradition of jazz guitar from Charlie Christian and Django Reinhardt to the present day is a very important aspect of my music… I'd like people to perceive me as having a direct connection to the history of jazz guitar, while expanding some musical boundaries which may not always involve the guitar itself.'
Since the 1992 recording While We're Young with organist Dan Wall and drummer Adam Nussbaum, John has continued to work with the trio releasing Speak of the Devil" in 1993 and Tactics in 1997, On his most recent album Open Land, the trio is joined by violinist Mark Feldman, trumpeter/flugelhornist Kenny Wheeler and Joe Lovano on tenor saxophone.
CONTATTI: www.johnabercrombie.com
Discografia
1974
Timeless
ECM

1974
Works
ECM

1975
Gateway w/ Jack DeJohnette & Dave Holland
ECM

1977
Gateway 2
ECM

1977
Characters
ECM

1978
Arcade
ECM

1979
Straight Flight
JAM

1979
Abercrombie Quartet [live]
ECM

1980
M
ECM

1982
Solar w/ John Scofield
Palo Alto

1984
Night
ECM

1985
Current Events
ECM

1987
Getting There
ECM

1988
John Abercrombie Marc Johnson & Peter... [live]
ECM

1989
Animato
ECM

1989
Upon a Time an Album of Duets New
Albion

1992
While We're Young
ECM

1992
John Abercrombie/Dan Wall/Adam Nussbaum
Ecm

1992
November
ECM

1993
Speak of the Devil
ECM

1994
Nosmo King
Steeple Chase

1994
Gateway: Homecoming
ECM

1994
In the Moment (Gateway)
ECM

1996
Tactics [live]
ECM

1999
Open Land
ECM

2000
The Hudson Project w/ Peter Erskine, John Pattatucci & Bob Mintzer
Stretch


APPEARS ON...
1968
Johnny "Hammond" Smith
Nasty

1971
Friends w/Marc Cohen
Oblivion

1971
Gato Barbieri
Gato

1971
Gato Barbieri
Under Fire

1971
Barry Miles
White Heat

1973
Dave Liebman
Lookout Farm

1973
Enrico Rava
Quotation Marks

1974
Billy Cobham
Shabazz

1974
Horace Arnold
Tales of the Exonerated Flea

1974
Billy Cobham
Crosswinds

1974
Billy Cobham
Total Eclipse

1974
Jack DeJohnette
Sorcery

1974
Gil Evans
Gil Evans' Orchestra Plays the...

1974
Dave Liebman
Drum Ode

1974
Clive Stevens
Atmospheres

1974
Clive Stevens
Voyage to Uranus

1975
Jack DeJohnette
Cosmic Chicken

1975
Jack DeJohnette
Works

1975
Charles Earland
Odyssey

1975
David Liebman
Sweet Hands

1975
Enrico Rava
Pilgrim and the Stars

1975
Michal Urbaniak
Fusion III

1975
Collin Walcott
Cloud Dance

1975
Collin Walcott
Works

1976
Enrico Rava
Pilgrim and the Stars

1976
Jack DeJohnette
Directions

1976
Ralph Towner
Sargasso Sea

1976
Jack DeJohnette's...
Untitled

1976
Jack DeJohnette
Pictures

1976
Barre Phillips
Mountainscapes

1976
Enrico Rava
Plot

1976
Ralph Towner
Sargasso Sea

1977
Jack DeJohnette's...
New Rags

1977
Johnny "Hammond" Smith
Storm Warning

1977
Collin Walcott with Don...
Grazing Dreams

1978
Jack DeJohnette
New Directions

1978
Clint Houston
Watership Down

1978
Terry Plumeri
Ongoing

1979
Urszula Dudziak
Future Talk

1979
Jack DeJohnette
New Directions in Europe

1979
Bobby Hutcherson
Un Poco Loco

1979
George Mraz With John...
Direct Flight

1979
Mike Nock
Climbing (check)

1980
McCoy Tyner
Four Times Four

1980
McCoy Tyner Quartet
4 X 4

1981
Ralph Towner
Five Years Later

1982
Goerge Marsh
Drum Strum 1750

1984
Andy LaVerne
Liquid Silver

1984
Don Thompson Quartet
Beautiful Friendship

1986
Don Tompson
Witchcraft

1986
Peter Erskine
Transition

1987
Richie Beirach with John...
Emerald City

1987
Tom Harrell
Visions

1987
Jeff Palmer/David Liebman...
Abracadabra

1987
Michel Petrucciani
Michel Plays Petrucciani

1988
Paul Bley
Live at Sweet Basil

1988
Peter Erskine
Motion Poet

1988
Henry Kaiser
Re-Marrying for Money

1988
Henri Texier
Colonel Skopje

1989
Andy LaVerne & John...
Natural Living

1989
John D'earth
One Bright Glance

1989
Danny Gottlieb
Whirlwind

1990
Niels Lan Doky
Friendship

1990
Danny Gottlieb
Brooklyn Blues

1990
Jim Hall & Friends
Live at Town Hall Vol. 2

1990
Joe Lovano
Landmarks

1990
Charles Mingus
Epitaph

1990
Bob Mintzer
Hymn

1991
Bob Brookmeyer
Electricity

1991
Harvie Swartz
Arrival

1991
Gust William Tsilis...
Heritage

1992
Niels Lan Doky
The Toronto Concert [live]

1992
Dreams
Dreams

1992
Bruce Gertz
Third Eye

1992
Jeff Palmer
Ease on

1992
Johnny "Hammond" Smith
Forever Taurus

1992
Hans Ulrik
Day After Day

1993
Vassar Clements
Once in a While

1993
Tim Hagans
No Words

1993
Lonnie Smith/John...
Afro Blue

1994
Bruce Ditmas
What If

1994
Bruce Gertz 5et
Discovery Zone

1994
Jeff Palmer
Shades of the Pine

1994
Jeff Palmer
Island Universe

1994
Lonnie Smith
Foxy Lady: A Tribute to Hendrix

1995
Andy Laverne
Now It Can Be Played

1995
Andy Laverne
Farewell

1995
Les Arbuckle
Bush Crew

1995
Base Line
Why Really

1995
Bruce Gertz
Blueprint

1995
Tom Harrell
Sail Away [Musidisc]

1995
Jacek Kochan
Grey Angel

1995
Lonnie Smith Trio
Purple Haze: A Tribute to Jimi...

1996
Baseline
Standards

1996
Marc Copland
Second Look

1996
Sigi Finkel
Sweet Sue

1996
Gateway
In the Moment

1996
Andy LaVerne
Where We Were

1996
Little Magic In A Noisy...
Little Magic in a Noisy World

1997
Baseline
Returns

1998
Franco Ambrosetti
Light Breeze

1998
Ethel Ennis
If Women Ruled the World

1998
Mark Soskin
Five Lands (Cinqueterre)

1999
Gato Barbieri
Best of the Early Years

1999
Bruce Gertz
Red Handed

1999
Charles Lloyd
Voice in the Night

1999
Vince Mendoza & London...
Epiphany

1999
Lars Moller Group
Colours

1999
Brooke Sofferman
Modesty's Odyssey

2000
Charles Lloyd
Water Is Wide

2000
Lee Konitz
Sound of Surprise

2000
Rudy Linka
Live It Up

2000
Johnny "Hammond" Smith
Soulful Blues

2001
Ed Byrne
Two Shades of Blue

2001
Billy Cobham
Rudiments: The Billy Cobham...

2001
Chuck Owen & The Jazz...
Madcap