MATT BREWER - contrabbasso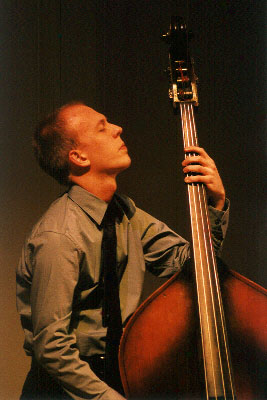 Matt Brewer was born April 20, 1983, in Oklahoma City but spent most of his youth in Albuquerque, New Mexico. Born into a musical family, Matt was surrounded by music from an early age, both his father and grandfather being jazz musicians, and his mother being an avid music lover. He was even listening to classic albums like A Love Supreme, before he was born. He started playing drums at age 3, learning rudiments on a small practice pad, but didn't take music seriously until the age of ten, when he found the bass during a summer program at the Interlochen Center for the Arts. There he began studying classical bass from two world renowned bass instructors, Winston Budrow, and Lawrence Hurst, while learning about jazz from his father. Matt started gigging professionally at the age of twelve around the Albuquerque area and was soon winning awards from the top university jazz festivals, twice winning the Outstanding Jazz Performer award which had never before been awarded to a middle school student. He continued his study of classical bass with the superb principal bassist of the New Mexico Symphony, Jean-Luc Matton, but soon realized that it would be necessary to be in an overall more creative and art appreciating environment. This led to the decision to attend the Interlochen Arts Academy, a year round arts boarding school in northern Michigan. There, students can major in music performance or composition, theatre, dance, creative writing, or visual art. In an isolated and serene campus, surronded by two lakes and inumerable trees, this environment was the perfect atmosphere to focus and learn. Matt continued his study of classical bass with instructor Derek Weller, and took jazz performance classes with Bill Sears. During his junior and senior years, Matt was selcted from applicants all across the country, to participate in the Grammy Band. He then performed on the 2000 Grammy Awards telecast in a group that was the first ever to perform on the show without being nominated for a Grammy. Also during his senior year he was invited to participate in the Vail Jazz All-Stars program. This was his first experience with a jazz bass teacher. The week he spent studying with John Clayton was one of the best educational experiences for Matt up to that point. After graduating the Interlochen Arts Academy, Matt attended the first ever Juilliard Jazz Program and studied with bassists Rodney Whitaker and Ben Wolfe. After spending two years at Juilliard he decided to leave school to make time for his busy touring schedule. He has worked with artists such as, Greg Osby, Greg Tardy, Chris Cheek, Mark Turner, Rodney Green, Jeff "Tain" Watts, and many others. He has had extensive touring and teaching experience across The United States, Europe, Canada, and Japan. He is also featured on Greg Osby's current Blue Note release "Channel Three". He currently resides in New York.
Discografia
Channel Three- Greg Osby. Greg Osby- Saxophones, Jeff "Tain" Watts- Drums. Blue Note Records 2005.
Introducing Adam Niewood- Adam Niewood-Saxophones, Ben Perowsky- Drums, Eric Lewis- Piano, Gerry Niewood-Various Woodwind Instruments. Native Language Music 2004
On My Way Back Home- Daisuke Abe. Daisuke Abe- Guitar, Rodney Green- Drums, Walter Smith- Tenor Saxophone, Aaron Parks- Piano, Gretchen Parlato- Voice. Self Released 2004.
Shadows-Aaron Parks Trio. Aaron Parks-Piano, Obed Calvaire-Drums. Keynote Records 2002
Mineral Mind- Igor Lumpert Featuring Igor Lumpert- Tenor Sax, Jamire Williams- Drums, Sam Barsheshett- Piano. Self Released 2003.