MAURO BEGGIO - batteria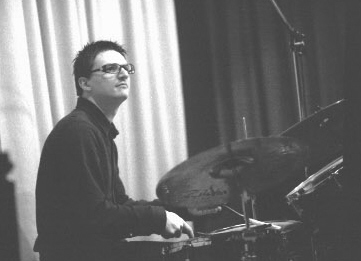 Mauro Beggio e' nato a Valdagno (Vicenza) nel 1970 ed ha iniziato a studiare la batteria quando aveva tredici anni, frequentando la "Scuola Popolare di Musica Dizzy Gillespie" di Bassano del Grappa e partecipando a drums - clinics di musicisti come: Peter Erskine, Tommy Campbell, Jon Christensen e Roberto Gatto.
Nel 1986, durante il seminario con quest'ultimo a Siena Jazz, ha conosciuto Enrico Rava con il quale ha iniziato a collaborare dal gennaio '87 partecipando ad importanti jazz festival italiani e stranieri, oltre a numerose trasmissioni radiofoniche e televisive in reti italiane ed estere. Nello stesso anno, con l'Enrico Rava Quartet, ha inciso il suo primo LP dal titolo "Animals".
Da quando ha iniziato la carriera professionistica, ha avuto modo di alternarsi tra formazioni precostituite (Enrico Rava Quartet, Quartetto di Claudio Fasoli, Lydian Sound Orchestra, ecc.) ed un'intensa attività di freelancer suonando con musicisti italiani come:
Franco D'Andrea, Furio Di Castri, Massimo Urbani, Gianluigi Trovesi, Guido Manusardi, Pietro Tonolo, Battista Lena, Enzo Pietropaoli, Rudy Migliardi, Augusto Mancinelli, Paolino Dalla Porta, Luigi Bonafede, Lucio Terzano, Riccardo Bianchi, Maurizio Caldura, Andrea Braido, Paolo Birro, Giulio Visibelli, Piero Leveratto, Bruno Cesselli, Marco Micheli, Mauro Negri, Fabio Zeppetella, Bruno de Filippi
e stranieri come:
Lee Konitz, Toots Thielemans, Palle Danielsson, Kenny Wheeler, Manfred Schoppf, Dick Oatts, Chris Rosenberg, John Mosca, Dick DeGraaf, Harvie Swartz, Sheila Jordan, Paul Bley, Johnny Griffin, Toninho Horta , Garrison Fewell, Cameron Brown, Gary Dial, Vic Juris, Mike Abene, Ted Curson, Emmanuel Bex, Chucho Valdes e Don Friedman.
Dal 1995 al 1999 ha lavorato stabilmente nel trio di Enrico Pieranunzi, dal 1996 nel trio denominato "Gibellini - Tavolazzi - Beggio" e dal 1999 con il "Rachel Gould Quintet", il "Claudio Fasoli Deltaquartet", "The Jazz Breakers", Lydian Sound Orchestra, Luigi Bonafede Poker Quartet ed il Michael Rosen Quartet.
Questi sono alcuni dei Jazz Festival in cui Mauro Beggio ha potuto farsi apprezzare:
Umbria Jazz, Festival Internazionale del Jazz di Atina, Festival di Palermo, Festival del Teatro Ciak di Milano, Agosto Jazz e' Milano, Along came jazz a Tivoli, Jazz Italia a Verona, Iseo Jazz, Jazz no Jazz Università di Pavia, Atelier musicale del ventesimo secolo a Milano, Jazz Meetings a Vicenza, Eurojazz Festival Ivrea, Siena Jazz, Festival del Jazz di Pescara, Rassegna Jazz Udine, Parmajazz Frontiere, Rassegna Sud Jazz, International Festival Jazz Summer Bolzano, Valtellina Jazz Festival, Festival del Jazz Cagliari, Jazz Fest - Moving Music Gubbio.
Oltre confine:
Plaza Jazz Festival (Habana – Cuba), Festival International de Jazz Lausanne (CH), Malta Jazz Festival (Malta), Rencontres Internationales de Jazz Nevers, Toulouse Jazz Festival, Jazz en tete Clermont-Ferrand (F), Zagreb Jazz Fair (Croazia), Darmstadt Jazz Festival, Jazz Kartell Festival Ulm, Leverkusener Jazztage (D).
Le trasmissioni radio - televisive (italiane ed estere):
Radio France Parigi: "Jazz Vivant, in diretta dal Grand Auditorium di R. France"; SR - Saarbrucken Radio (D): "E. Pieranunzi Trio in concert"; Mitschnitt MDR Radio (D): "E. Pieranunzi Trio in concert"; TV Svizzera Lugano: "Nautilus", contenitore musica e spettacolo; RAI Uno: consulenza musicale per il film sceneggiato "Una verità come un'altra"; Radio Uno Jazz '87: E. Rava e i suoi amici; Radio Uno: "Jazz Club" Gibellini-Tavolazzi-Beggio in concerto; RAI Tre: "L'altro spettacolo"; RAI Tre: "Arcobaleno", special su E. Rava.
Per contatti e informazioni:
Mauro Beggio
Via Venezia 33/b Arzignano (VI)
web: www.maurobeggio.com

Discografia
Animals - Enrico Rava Quartet - Gala Records 1987
One Year After - Paul Bley - Gala Records 1992
Trioscape - Enrico Pieranunzi Trio - Yvp Music Germany 1995
Live In Germany - Enrico Pieranunzi Trio - Yvp Music Germany 1996
Senza parole - Giulio Visibelli group - Splasc(h) Records 1997
Ma l'amore no - Enrico Pieranunzi e Ada Montellanico - Soul note 1997
Dancin' On A Dime - Rachel Gould - Caligola Records 1999
You And The Night And The Music - Gibellini / Tavolazzi / Beggio - Splasc(h) Records 1999
The Swinging Camera- AA.VV.- Splasc(h) 1999
Doina – Guido Manusardi – Soul note 2000
Incendi marini – Gianni Cappiello – Splasc(h) 2000
Second Change – Roberto Caon – Caligola Records 2000
Natural Code – Ettore Martin – Abeat Records 2001
Paseada con Bruno – Gianni Cappiello Trio – Splasc(h) Records 2001
Let's Face The Music And Dance – Gibellini / Tavolazzi / Beggio – Splasc(h) Records 2001
Headache – Matteo Turella – Splasc(h) Records 2002
To Include - Luigi Bonafede Trio Feat. Flavio Boltro and Mauro Negri - Splasc(h) Records 2002
Monk At Town Hall & More – Lydian Sound Orchestra – Abeat Records 2002
Wines & Jazz – Claudio Fasoli Quintet – Siena Jazz 2003
Lost In Space – Guido Manusardi Quintet Feat. Rachel Gould – Splasc(h) Records 2003
Mauro Beggio insegna dal 1999 presso i seminari estivi Musica Viva Jazz Workshop di Sondrio (con Rachel Gould e Guido Manusardi).