GREG LEISZ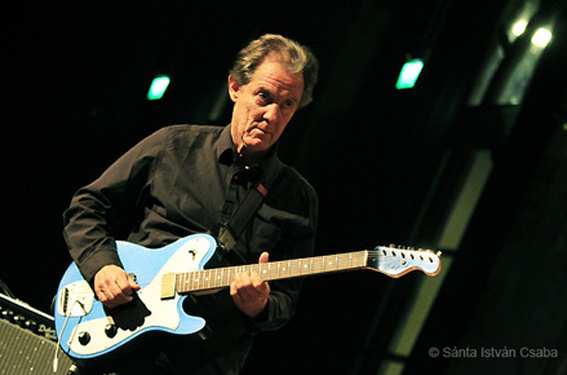 Leisz has also worked extensively with Matthew Sweet starting in the early 1990s, when he worked on the album Girlfriend and joined Sweet on the subsequent tour.
Another close collaborator is Bill Frisell, with whom he tours regularly and is featured on the albums Good Dog, Happy Man, Blues Dream, The Intercontinentals, Disfarmer, and All We Are Saying.
Gregory Brian Leisz (pronounced "Lease")[1] (born September 18, 1949, Buffalo, New York, United States) is an American musician. He is a songwriter, recording artist, and producer. He plays guitar, dobro, mandolin, lap steel and pedal steel guitar.
In January 2008, he joined the group Works Progress Administration – a band composed of Leisz, Sean Watkins (guitar), his sister Sara Watkins (fiddle), Glen Phillips (guitar, vocals), Benmont Tench (piano), Luke Bulla (fiddle), Pete Thomas (drums), and Davey Faragher (bass). The group released their debut album, WPA, on September 15, 2009.
In 2010, Leisz was presented with a Lifetime Achievement Award for Instrumentalist by the Americana Music Association.
He received a Grammy Award for his contributions to Ray LaMontagne's 2010 release, God Willin' & the Creek Don't Rise. In 2010 and 2011, Leisz toured with LaMontagne as a member of his backing band, The Pariah Dogs.
Leisz toured in 2013 as a member of Eric Clapton's band.
He is credited on Amos Lee's Last Days at the Lodge as Greg "Liesz".
Leisz's playing has appeared throughout the years on recordings by Avenged Sevenfold, Tiger Army, Black Crowes, Bill Frisell, Dave Alvin, John Stewart, Tracy Chapman, The Smashing Pumpkins, Grant Lee Buffalo, Acetone, Ray Lamontagne, Paula Cole, Matthew Sweet, The Jayhawks, Beck, Meshell Ndegeocello, Bruce Cockburn, Eric Clapton, Glenn Frey, Wilco, Shawn Colvin, Lucinda Williams, Jackson Browne, Mary Gauthier, Peter Case, Emmylou Harris, Joni Mitchell, Whiskeytown, Eagles, Bad Religion, k.d. lang, Sheryl Crow, Cass McCombs, John Fogerty, Daft Punk, Natalie D-Napoleon, Bruce Springsteen, Susanna Hoffs, Robert Plant, Alison Krauss, Joe Cocker, Amos Lee, Aaron Neville, Bon Iver, Chuck Prophet, Sara Watkins, Nebraska Falls, John Mayer, The Bangles and Bo Menart.[2]