STEFANO ZENNI - storico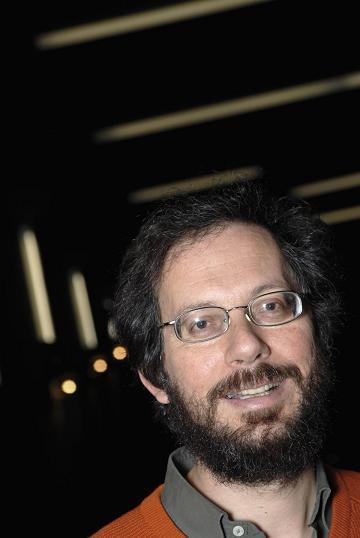 NAto a Chieti nel 1962, risiede a Prato.
Insegna history of music of XX and XXI century, presso la New York University in Florence.
"Storia e analisi del jazz e delle musiche afroamericane" presso i conservatori di Bologna e Pesaro.
Materie teoriche e musicologiche nei seminari di Siena Jazz e nel biennio specialistico In.J.Am.
Ha insegnato in numerosi corsi di formazione professionale per musicisti e musicologi, master ecc. in università, conservatori e scuole di musica.
Tiene conferenze eorganizza convegni in Europa e in America.
Ha prodotto Cd (per la Backbeat) e libri.
E' presidente della società italiana di Musicologia Afroalericana (SidMA).
E' direttore artistico dal 1997 della rassegna Metastasio Jazz presso il teatro Metastasio di Prato.
E' direttore artistico della stagione musicale della Società del Teatro e della Musica L. Barbara di Pescara.
E' direttore dei seminari , dove insegna " fondamenti di musicologia afroamericana".
E' membro dell'International Advisory Board del Center for Black Music Research di Chicago e dell'International Council for American Music (ICAMus).
E' stato per dodici anni collaboratore di Musica Jazz.
E' editor della sezione jazz del Giornale della Musica.
E' autore dei volumi:
Louis Armstrong. Satchmo: oltre il mito del jazz (Stampa Alternativa, 1996)
Herbie Hancock. Jazz, Buddha e funky a 88 tasti (Stampa Alternativa, 1999)
Charles Mingus. Polifonie dell'universo sonoro afroamericano (Stampa Alternativa, 2002)
I segreti del jazz (Stampa Alternativa, 2008) Vincitore del premio Migliore libro di saggistica su musica internazionale 2007-2008 a Libri in musica Musica in libro, 1° Festival del Libro Musicale di Sanremo.ù

E' curatore dei volumi:
Il secolo di Louis Armstrong (Vanni Editore, 2001) Il pianista invisibile.
Vita e opere di Umberto Cesàri (1920-1992) (SIdMA/CariChieti, 2003) Miles Gloriosus, a cura di Franco Maresco, Guido Michelone, Stefano Zenni (Backbeat, 2004).
Testi e saggi in (tra l'altro):
Il jazz, a cura di Marcello Piras (Cd-Rom, Editori Riuniti, 1998) Il jazz fra passato e futuro, a cura di Maurizio Franco (LIM, 2001) The New Grove Dictionary of Jazz II, edited by Barry Kernfeld (Macmillan, 2002). Jazz Planet. Transnational Studies of the "Sound of Surprise", edited by E. Taylor Atkins (University Press of Mississippi, 2003)
E' stato candidato ai Grammy Awards 1999 nella categoria "Best liner notes".
Dal 1998 è conduttore di Rai Radio3.
http://web.mac.com/stzenni/Stefano_Zenni_website
Discografia