STEVE CARDENAS - chitarra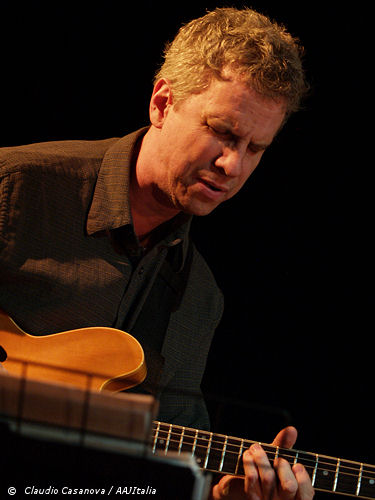 Steve Cardenas chitarrista originario di Kansas City.
Il suo suono, lirico, caldo e le sue acute, improvvisazioni lo pongono nella schiera di giovani musicisti jazz con influenza rock come Pete McCann and Ben Monder.
Cardenas è spesso impegnato come sideman and leader in New York.
Ha collaborato e/o registrato con Eddi Harris, Marilyn Maye, Jay McShann e Nora Jones. Steve Million, Maria Muldaur, Mark Isham, Paul McCandless, Jeff Beal, ed il cantante pop/rock Tracy Bonham.
E' parte integrante dell'organico della Paul Motian Band, la Charlie Haden Liberation Music Orchestra e Joey Baron "Killer Joey".
E' anche band leader.
Suoi albums come leader: 'Panoramic' e 'Shebang', entrambi pubblicati per la Fresh Sounds New Talent nonché l'ultimo lavoro discografico "West Of Middle" pubblicato per la Sunnyside Records.
Ha anche trascritto il lavoro completo della leggenda del jazz Thelonious Monk per un libro intitolato "The Thelonious Monk Fakebook" (Hal Leonard Publishing), che riprende il primo periodo di composizioni di Monk inclusi lavori indediti, pubblicati insieme in un sol volume.
Cardenas ha anche svolto attività come insegnante presso the New School in New York, Musician's Institute in Hollywood, Jamey Aebersold Summer Jazz Camps, and the University of Missouri.
http://www.stevecardenasmusic.com/