IRENE JALENTI - cantante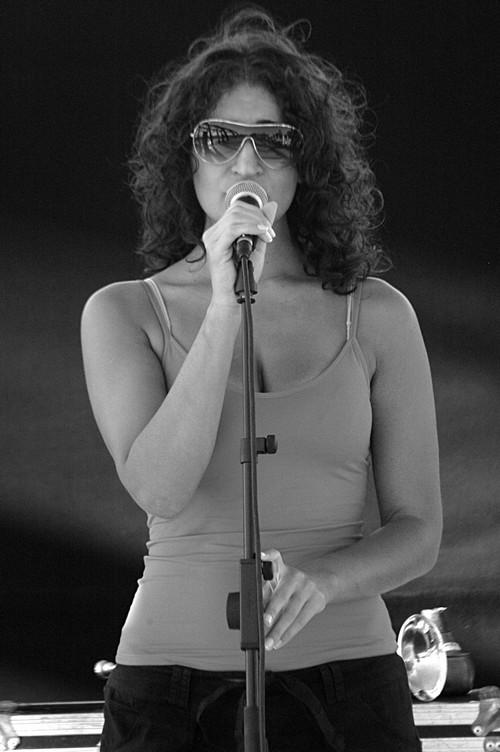 "Music is the key for Heaven" - Francesco Jalenti
Thanks to my father I started to sing, but first of all to LISTEN that it's the most important thing to learn, understand and FEEL the power of notes and life.
My family has a long and deep tradition of singers, guitarists, pianists, composers and music lovers, maybe this is the reason why I can't stop!
So...at the age ot 13 I was on stage...singing...and that was the beginning.
I walked through Gospel Music (at 15 I was the solist of a Gospel choir and on 2006 I performed at Umbria Jazz fest. with the direction of Dennis Montgomery III and Donna McElroy of Berklee College), Blues, Jazz, Rhythm'n'blues, Funk, Soul, Acid Jazz, Chill out (with the band Cellar 55: Fernando Opera, Alessandro De Florio, Paolo Paolini, Paolo Chiari), Nu Jazz (with the band Ostinato: Lorenzo Fontana, Andrea Belli) and all kind of music that makes me feel good and alive.
I've been lucky 'cause life has let me know beautiful people who teached me many different things about music and life, and I thank them everyday...but the incredible thing is that I still meet amazing musicians who give me the strenght to fight for my dream and show me the right way to follow for doing what I want but being always focused and with the right mind.
I also have had the honour to play with: Matteo Addabbo, Chander Sardjoe, Linley Marthe, Thomas Gromaire, Vincent Bourgeyx, Geoffroy De Masure, Archie Love, Andy Martin, Rocky Lawrence, Lazy Lester, Davell Crawford...hopefully the list will be longer and longer and longer....
Hope you'll enjoy...
-------
Sono nata nel 1980, a Terni...Italia.
Ho iniziato a cantare a 13 anni.
A 15 ero solista del coro gospel della parrocchia.
Dal 2000 al 2002 ho fatto parte di un gruppo soul/rhythm'n'blues, nello stesso periodo ero in un gruppo funky/acid jazz.
Nel 2002 ho incontrato Paolo Paolini e Alessandro De Florio, abbiamo iniziato a collaborare per un progetto Chill out e sono diventata la cantante ufficiale dei Cellar 55.
Nel 2004 ho iniziato una collaborazione con il sassofonista Lorenzo Fontana ed il suo progetto chiamato Ostinato. Con lui ho registrato "Billy and the clouds". Quindi sono diventata la cantante ufficiale dei concerti del gruppo. Nello stesso anno ho collaborato con Alberto Dati nel brano chiamato "Livin' without U".
Nel 2005 ho cantato al fianco di Archie Love durante il "Narni black festival".
Nel 2006 ho iniziato un nuovo progetto jazz/funky con Lorenzo Fontana chiamato Back to the beatles. Nella stessa estate durante i seminari di Umbria Jazz (con Donna McElroy come insegnante) sono stata scelta come una delle soliste del coro gospel diretto da Dennis Montgomery III.
Durante l'anno accademico 2006/2007 ho studiato presso Siena Jazz con Fabrizia Barresi ed Alice Reynolds.
Ho studiato pianoforte, chitarra e clarinetto (con il maestro Roberto Petrocchi). Attualmente sto studianto pianoforte jazz con Giovanni Ceccarelli.
Mi sono inoltre esibita con: Chander Sardjoe, Linley Marthe, Thomas Gromaire, Vincent Bourgeyx, Geoffroy De Masure, Andy Martin, Rocky Lawrence, Lazy Lester, Davell Crawford...

Discografia
- Undiscovered World 2 (2003 Distr. Sony)
- Undiscovered Ibiza 6 (2004 Distr. Edel)
- Ostinato "Voices" (2004 Distr. Venus)
- Alberto Dati "Tous les soirs" (2004 Distr. Audioglobe)
- Buddha bar 3 (2006 Distr. Audioglobe)
- Cellar 55 "Free" (2006 Distr. Groove)