HENRY COLE - batteria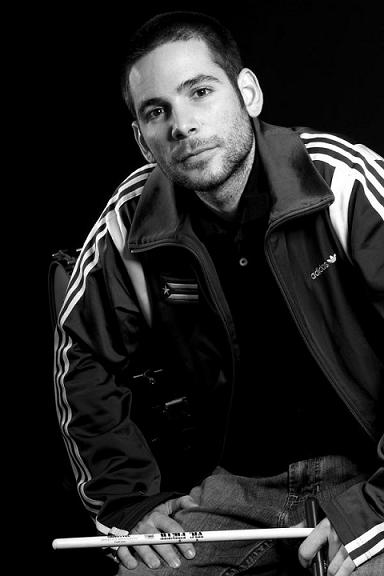 Twenty eight year old drummer Henry Cole emerged onto the music scene in old San Juan in 1999 where he studied classical percussion at the Conservatorio de Musica de Puerto Rico. However, it was not until a few years later--while attending the Berklee College of Music in Boston-- that Cole's musical evolution pointed him naturally towards the jazz tradition. He went back home with a new energy and focus and performed as the "house drummer" for the 1st Annual "Jazzboriken" Festival in San Juan, Puerto Rico. He played with such Latin jazz luminaries as Giovanni Hidalgo, Bobby Valentin, Anthony Carrillo, Dave Valentin, and Paoli Mejias.
While back in Puerto Rico, Cole had the opportunity to hone his craft with a variety of artists both within and beyond the world of jazz. They include performances with Jerry Gonzalez, Eric Figueroa (Latin-jazz trio), Claudia Acuna, Luis Marin, La PVC (salsa), Danilo Perez, Branford Marsalis, William Cepeda Afrorrican Jazz, Vivanativa (rock), Cheo Feliciano, Ramon Vasquez Quartet, among others. In addition to his extensive performance experience, Cole conducted drum-set clinics for the percussion festival at the Conservatorio de Musica de Puerto Rico, and at the Inter American University. As a result, he soon became one of the most in-demand and influential jazz drummers on the Island.
In the fall of 2003, Cole took a big step forward and moved to New York City to attend the prestigious Manhattan School of Music where he received a scholarship to study with drummer/composer John Riley. In less than two years, Cole has performed with internationally recognized musicians such as David Sanchez, Claudio Roditi , Eduard Simon,The Chico O'Farril Afrocuban Big Band, Andy Gonzales, Ray Barreto,Orlando "Puntilla" Rios, Papo Vazquez, Michelle Roosewoman, Paquito d' Rivera,David "Fathead" Newman,Dave Samuels, among many others. He has toured all over the United States, Mexico , Central America, Europe and Greece. As he did in Puerto Rico, Henry Cole is fast becoming an important member of the New York and International jazz community.
In the fall of 2004, Henry Cole's Quartet was selected amongst the 150 groups that participated, for a tour abroad representing the United States as part of the 2006 Jazz at Lincoln Center American Music Abroad (The Rhythm Road) Program, Also known as "The Jazz Ambassadors". In addition to public concerts, "The Rhythm Road" conducts master classes and lecture-recitals for musicians. In Modern Drummer magazine feature article,The Future Of Drumming (January 2006), Cole was noted as an outstanding young player to watch by legendary drummers Alex Acuna, John Riley, and Antonio Sanchez. He is currently touring with Miguel Zenon Quartet and David Sanchez.