KARSTEN LIPP - chitarra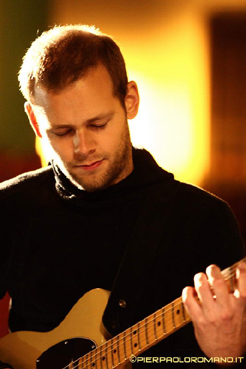 (born 19.02.77 in Bremen/ Germany) grew up in the musical enviroment of north european jazz. After studying with Frank Möbus (Der rote Bereich) in Berlin he relocates to Cologne where he graduates with full marks in Jazz-Guitar at the Musikhochschule Köln (Frank Haunschild, John Taylor, Bill Dobbins).
Always searching for new sounds and structures Karsten founds the trio Pupazza (Bernd Hartnagel - sax; Sebastian Corrinth - dr), with which he comes first in the competitions "Ernst & Young International Jazz Award - for the most talented jazz students in europe" in Rotterdam , "Chambre Ceramic Concours" in Maastricht and the "Green Age Festival" in Turin.
Working with this bassless group led Karsten to cut off with traditional forms and roles and to developed a very personal and distinctive style as an improviser and also as a composer.
With his actual german-italian trio Flex (Federico Marchesano - db; Marco Puxeddu - dr) he continues his research in form of a guitar-trio. Even if the configuration git/db/dr can be measured up to thousands of other guitar-trios Flex differs for their refined, intimate and frank sound. In Marco and Federico Karsten found two outstanding musicians that share his spontaniety, authenticity and the need of experimentation and that doesn´t bother pure virtuosity.
In 2002 Karsten relocates to Italy one year after receiving a scholarship to represent the Musikhochschule Köln at the International Jazz-Workshop "Siena Jazz".
There he collaborates with musicians like Andrea "Ayace" Ayassot, Carlo Actis Dato, Paolo Fresu, Gianluca Petrella and the LabDance Orchestra of Furio DiCastri.
He has performed on the following festivals:
"Cologne Jazz Night" Germany, 2001; "Leverkusener Jazztage" Germany, 2001; "Eurostream Jazz Festival" Holland, 2001; "Jazz a Palazzo Sport ai Reali" Italy, 2002&2003; "Area Sismica" Italy, 2004; "JazzCerkno04"; "Jazz in progress" Germany, 2004; "30. Freiberger Jazztage" Germany, 2004; "Jazz Brugge" Belgium, 2004; "Olympic games" Greece, 2004; Tour Indonesien, 2004; "UnderConstruction" Italy, 2005; "Due Laghi Jazz Festival" Italy 2005; "Tampere Jazz Happening" Finnland, 2005, ALTAVALLE JAZZFESTIVAL 2007
Discografia
Flex "Nord" - DDE Records - EYS#019

Actis Band "On Tour Live 2004" - Splasc(H) Records - CDH541/2.2