JERRY BERGONZI - sax tenore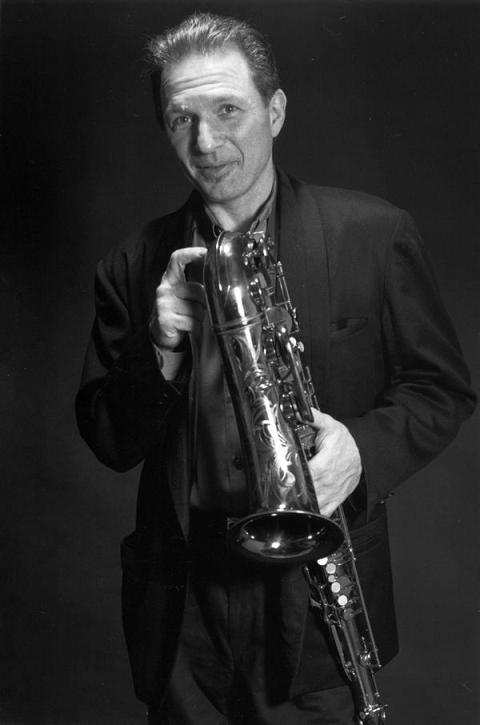 nato a Boston da genitori italo americani, è stato definito da Down Beat a "Tower of Power". I jazzisti di tutto il mondo gli riconoscono una indiscussa maestria strumentale e apprezzano la genialità delle sue composizioni e del suo stile che ha riunificato molti dei principali dialetti del tenorismo moderno in uno stile, fraseggio, vocabolario e un suono personale che inglobano, sintetizzano e danno nuova luce agli stilemi di Rollins, Coltrane, Joe Henderson e Wayne Shorter. Jerry Bergonzi è l'autore di alcuni manuali di teoria e pratica jazzistica, pubblicati dalla casa editrice tedesca Advance, che sono fra i più studiati dai musicisti delle nuove generazioni in tutto il mondo. La sua influenza sui musicisti è enorme sia per il suo stile che per le sue innovative concezioni musicali ed è anche un celebree ricercato insegnante. Jerry Bergonzi, oltre i sassofoni, suona anche piano, basso, batteria ad eccellenti livelli. E' non solo un musician's musicians ma anche un sassofonista di culto fra molti jazz fans in tutto il mondo, in particolare fra quelli meno soggetti alle mode e alle chimere del marketing discografico.Uomo schivo, gentile, riservato e poco incline alle pubbliche relazioni, integralmente posseduto dalla musica che suona con indomabile energia e feroce dedizione produce una musica di grande impatto e forza vitale che da vita ad una intensa e drammatica "poetica dell'inquietudine" pervasa da una virile urgenza espressiva sia nelle sue composizioni originali che negli standards che spesso reinventa di sana pianta. E' anche considerato un superbo interprete di ballads che da sempre sono il vero test per qualsiasi jazzista giunto alla maturità. Attualmente Jerry Bergonzi insegna teoria e pratica del jazz al New England Conservatory of Music e si esibisce sia come free lance che come leader di propri gruppi in tutto il mondo. Jerry Bergonzi come leader e sideman ha registrato con: Bobby Watson, Kenny Barron, Victor Lewis, Franco Ambrosetti, Mulgrew Miller, Dave Brubeck, Mike Stern, Michael Brecker, Alex Riel,etc...
Tenor saxophonist, Jerry Bergonzi, is an internationally recognized jazz performer, composer, author and educator. His music is renowned for its innovation, mastery, and integrity. Relentless drive, inner fire, total command, awesome technique, elastic lyricism, rich resonance, world-class, a musical visionary, are among the rave reviews credited to his sound. Bergonzi's music has been applauded throughout the world at festivals, concert halls, and jazz venues and his dedication to jazz music has been well documented by an extensive discography.
Born in Boston, Massachusetts, Bergonzi became interested in music early on. He started playing clarinet when he was eight years old listening to Duke Ellington, Count Basie, and Lester Young. His uncle, who was a jazz musician and lived upstairs, used to write out solos for him to play. At twelve years old he got his first saxophone, an old Conn alto, and a year later when a friend introduced him to Miles, Coltrane, and Sonny Rollins, there was no turning back! At thirteen, Jerry was already playing gigs with a band called The Stardusters. During his high school years he switched to tenor, and in addition to weekly sessions with Berklee College students, Jerry also played in John LaPorta's youth band. He recalls, "It was a great experience, I learned so much, John would tell you like it was. He'd let you know what your shortcomings were, he would stop the band to tell you! "Bergonzi attended Lowell University but left after one year because he was continually being thrown out of the practice rooms for playing jazz. "If I had heard me practicing in one of those cubicles I might have thrown myself out!" he adds. He and fellow student, Charlie Banacos, used to begin their day in the practice rooms at 6:00 am. After a year at Berklee College, he returned to Lowell for financial reasons and graduated in 1971. He then played bass in local bands behind singers, strippers, and comedians, saving up enough money to move to New York City in 1972.
During 1972 and 1978 Bergonzi lived in New York City and experienced what he considers his real college education. There, where he had a third floor loft and friend and bass player, Rick Kilburn, lived on the first floor, was the scene of many sessions. "Often, there was one drummer, one bass player, and five saxophone players!" Bergonzi remembers. "Sometimes I was the drummer, each guy would tell a friend, everyone was hungry to play and it was great experience." Joe Lovano, Steve Slagle, Billy Drewes, Paul Moen, Pat LaBarbera, Dave Liebman, John Scofield. Mike Brecker, Bob Berg, Tom Harrell, Steve Grossman, and Victor Lewis were a few of the many players who came to play.
During this time, Bergonzi gained worldwide recognition while performing with, Two Generations of Brubeck. The group, with Dave Brubeck and his kids, Darius, Chris, and Danny, also featuring Perry Robinson on clarinet and Mad Cat Ruth on harmonica, toured extensively from 1973 through 1975. Carnegie Hall, the Sydney Opera House, London's Royal Festival Hall and Alexander's Palace, Lincoln Center, and the Hollywood Bowl were among the many stages their music was applauded, as well as, at the JVC Newport, New York Kool, North Sea, Monterey, and Nice jazz festivals, to name a few.
Returning to Boston at the end of 1977, Bergonzi was gigging five nights a week at the many local venues including Michael's Pub, 1369 Jazz Club, Pooh's Pub, Ryles, and the Sunflower. "It was exactly what I needed at that point," says Bergonzi, "making a statement on a tune in front of an audience is a lot different than playing a jam session". It was during this period that the innovative group, Con Brio, formed. Including bassist Bruce Gertz, drummers Bob Kaufman and Jeff Williams, pianist Eric Gunnison, and guitarists Mike Stern and Mick Goodrick, the group has played on throughout the years in various incarnations. At that time they recorded six records for their own independent label called Not Fat Records. These recordings featured Bergonzi's talent as a composer. Today he has almost one hundred tunes recorded and registered with ASCAP, his most recent compositions are available in a book and play-along published by Jamey Aebersold and five of his tunes can be found in the pages of Chuck Sher's All-Jazz Real Books. During these years, Bergonzi also played with the dynamic trio called, Gonz, including Gertz and Bob Gullotti on drums. Gonz sometimes became Gargonz when they added the talents of another Boston based saxophonist, George Garzone, as well as, bassist John Lockwood of The Fringe.
While in the midst of the Boston jazz scene, Jerry received a call from Dave Brubeck asking if he'd again like to join his group in a quartet setting. From 1979 until 1981, Jerry toured the world with the Dave Brubeck Quartet. On the road for about 200 days a year, the group recorded Back Home, Tritonis, and Paper Moon for Concord Records between stops.
Bergonzi also began his career as an educator in the early 80's. He established his private practice teaching all instruments how to improvise and during those years developed the systems described in his series entitled Inside Improvisation. In this six volume series published by Advance Music, Bergonzi offers a tangible pathway to inside the creative imagination by getting inside the harmony, inside the changes. Today, he is a world renowned educator, a full time professor at New England Conservatory, Bergonzi travels throughout the United States and Europe as a clinician and performer. Some of the many places he has taught include; master classes at Berklee College of Music, North Texas State University, Eastman College, the Paris Conservatory, the Manheim Jazz School, Taller de Musicos in Madrid, S.A.C.A.E. in Adelaide, Australia , and jazz conservatories in Pitea and Haperanda, Sweden, and Oulunkyla, Finland, to name a few.
The mid to late 80's brought some changes to Bergonzi's career as work in Boston slowed while work abroad became more plentiful. So too, did the recording industry begin to change. Bergonzi's acclaimed quartet release for Blue Note Records, called Standard Gonz, was among the first of his extensive discography. He later again recorded for Blue Note with pianist Joey Calderazzo on, To Know One and In The Door. While keeping his ties with the many musicians of the Boston and New York jazz scenes, Bergonzi also developed associations abroad yielding many musical collaborations.
The Italian label, Red Records, was Bergonzi's greatest supporter. "Red Records was the first label that really believed in my music." says Jerry. They released four CD's with Bergonzi as the leader, including, Lineage, a live recording featuring Mulgrew Miller, Dave Santoro, and Adam Nussbaum. Jerry later played with the Red Record all-stars including Kenny Barron, and Bobby Watson, as well as on a number of other Red releases with Salvatore Tranchini, Fred Hersch, and Alex Riel. He has also performed and recorded with the George Gruntz Big Band, the Gil Evans Orchestra (Miles Davis in Montreaux), and 12 Jazz Visits in Copenhagan for Stunt Records. The Riel Deal, on Stunt, featured drummer Alex Riel, Kenny Werner and Jesper Lundgaard, and was awarded a Grammy in Denmark for best jazz recording in 1997. An association with Daniel Humair and the late J.F.Jenny Clark yielded a number of recordings for the French, Label Bleu. One of which was Bergonzi's CD, Global Summit, it featured Tiger Okoshi, Joachim Kuhn, Daniel Humair and Dave Santoro. This was the product of one of three National Endowments awarded Bergonzi. Another project with pianist Kuhn won the accolade Best Jazz Album in France 1992. Among the many other artists that Bergonzi has performed and recorded with are; John Abercrombie, Nando Michelin, Antonio Farao, Bill Evans (with the National Jazz Ensemble), Joe D'Orio, Eddie Gomez, Miroslaz Vitous, George Mraz, Billy Hart, Andy Laverne, Steve Swallow, Hal Galper, Roy Haynes, Charlie Mariano, Bob Cranshaw, Ray Drummond, Billy Drummond, Danny Richmond, Danny Gottlieb, Dave Holland, Jack DeJonette, Paul Desmond, Bennie Wallace, Gerry Mulligan, Hal Crook, Herb Pomeroy, Mike Manieri, Mark Johnson, Michel Portal, Marcel Solal, Pat Martino, Franco Ambrosetti, and many more.
The Double-Time Records label has released most of Bergonzi's recent work. Just Within, Lost in the Shuffle, Wiggy, and A Different Look, were recorded by Bergonzi's burning organ trio, with Dan Wall and Adam Nussbaum. Also on Double-Time, The Dave Santoro Standard recordings feature Bergonzi's swinging tenor along with drummer Tom Melito and pianists Bruce Barth and Renato Chicco. As a band leader, Bergonzi has performed worldwide at the Red Sea, San Remo, Moomba, and North Sea Jazz festivals, to name a few. He has appeared at the World Saxophone Congress in Montreal, Canada and Valencia, Spain with fellow saxophonist Philippe Geiss. Bergonzi's performance at the Subway in Cologne has been featured on the German TV series, Round Midnight. His quartet performs at Duc de Lombarde in Paris, the Fasching in Stockholm, the Jazz House in Copenhagan, and the Bird's Eye in Basel, and many others.
Today, Bergonzi makes his home in Boston area with his wife and two children. He continues to teach and perform worldwide. He endorses Selmer Saxophones, Rico Reeds and Zildjian Cymbals.
"This guy is the real tower of power.....His bold penetrating tone and furiously paced streams of notes make for a commanding voice indeed. His passionate improvisations are marked by a consistency of strength in every register and a penchant for harmonic development." Bill Milkowski Downbeat Review
Discografia
2007 Tenorist Savant
2006 Tenor of the Times Savant
2004 Live GONZ! II Double-Time
2003 Live GONZ! Double-Time
2003 Dreaming Out Loud Whaling City Records
2001 The Line Between Whaling City Records
2001 A Different Look Double-Time
2000 Wiggy Double-Time
1998 Fast Company Blue Jackel
1998 On Again RAM
1998 Together Again for the First Time Red
1998 Lost in the Shuffle Double-Time
1996 Just Within Double-Time
1995 Vertical Reality Musidisc
1992 Peek a Boo Evidence
1991 Tilt Red
1991 ETC Plus One Red
1989 Lineage Red
1989 Inside Out Red
1989 Standard Gonz Blue Note
1988 Caught in the Act! Not Fat
1988 On Red Red
1986 Uranian Undertow Plug
1984 Featuring Bruce Gertz Not Fat
1982 Con Brio Plug
Signed By (co-lead w/Joachim Kuhn) Deux Z Records
Less Is More (co-lead w/Philippe Geiss) Studio Christal Records
Front End Not Fat
The Ray Not Fat
Conjunction (co-lead w/Hal Crook) Konnex
as a sideman
Dave Brubeck Brother, the Great Spirit Made Us... (1974) Soprano Sax
Dave Brubeck Back Home (1979) Electric Bass, Tenor Sax
Dave Brubeck Tritonis (1980) Electric Bass, Tenor Sax
Dave Brubeck Paper Moon (1981) Tenor Sax
Dave Brubeck Ken Burns Jazz (2000) Soprano Sax
Greg Burk Carpe Momentum Tenor Sax
Dave Calarko Countdown Tenor Sax
Joey Calderazzo In the Door (1991) Tenor Sax
Joey Calderazzo To Know One Tenor Sax
Maurizio Carugno Gratitude Tenor Sax
Jeff Covell Solos and Duets Tenor Sax
Miles Davis/Quincy Jones Miles & Quincy Live at Montreux (1991) Tenor Sax
John Dearth Restoration Comedy Tenor Sax
Brian Dickinson Soul Mission Tenor Sax
Miles Donahue Double Dribble (2000) Producer
Miles Donahue Good Listener (1995) Tenor Sax
Miles Donahue In The Pocket Tenor Sax
Miles Donahue Remember Me Tenor Sax
Miles Donahue Stranger In Paradise Tenor Sax
Miles Donahue The Good Listener Tenor Sax
Dalia Faitelson Global Sound-Diamond (2001) Tenor Sax
Dalia Faitelson On Rising Spirits Tenor Sax
Hal Galper Just Us (1993) Tenor Sax
Hal Galper Let's Call This That (1999) Tenor Sax
Hal Galper Rebop Tenor Sax
Bruce Gertz Third Eye (1992) Tenor Sax
Bruce Gertz Discovery Zone (1994) Tenor Sax
Bruce Gertz Blueprint (1995) Tenor Sax
Bruce Gertz Red Handed (1999) Tenor Sax
Bruce Getz & Ken Cervenka Shut Wide Open (1998) Tenor Sax
Mick Goodrick Sunscreams (1993) Tenor Sax
George Gruntz Blues 'n Dues Et Cetera (1991) Tenor Sax
George Gruntz Sins 'n Wins 'n Funs (1996) Tenor Sax
Chehalis Hegner Chehalis Lyrical Tenor Sax
Daniel Humair Edges (1991) Saxophone
Daniel Humair Open Architecture (1993) Tenor Sax
Harri Ihanus Eye Opener Tenor Sax
Quincy Jones The Musical Biography of Quincy (2001) Tenor Sax
Bob Kaufman/Bruce Gertz Line Between (2001) Tenor Sax, Producer
Tatsu Kisaragi Deep Three Tenor Sax
Tatsu Kisaragi Lazy Bird Tenor Sax
Tatsu Kisaragi Power Play Tenor Sax
Eartha Kitt Thinking Jazz [ITM] (1991) Tenor Sax
Eartha Kitt Thinking Jazz [Records] (1999) Tenor Sax
Jacek Kochan Grey Angel (1995) Tenor Sax
Gunther Kuermayr Window (1998) Soprano Sax, Tenor Sax
Steve Langone Steve Langone Group Tenor Sax
Andy LaVerne True Colors Tenor Sax
Andy LaVerne Intuition Tenor Sax
Joe Locke Scenario Tenor Sax
Guido Manusardi Within (1996) Tenor Sax
Maximilian What I'm Doing Now Must Be Done Tenor Sax
Don McBride As It Were Tenor Sax
Nando Michelin Facing South (1996) Saxophone
Nando Michelin Common Grounds (1997) Saxophone
Nando Michelin Art (1999) Tenor Sax
Nando Michelin Chants: A Candomble Experience (2000) Tenor Sax
Nando Michelin Einstein's Dream Tenor Sax
Nando Michelin Quintet Tenor Sax
Bob Moses & Tsziji Muñoz Love Everlasting (2000) Saxophone
Peter Orphanos With Open Eyes Tenor Sax
Fritz Renold Bostonian Friends Tenor Sax
Fritz Renold Shanti and Sri Tenor Sax
Mike Richmond New Blues Tenor Sax
Ramon Ricker Saxology Tenor Sax
Alex Riel Emergence Tenor Sax
Alex Riel Rielatin' (2000) Saxophone
Alex Riel The Reil Deal Tenor Sax
Alex Riel Unriel (1998) Tenor Sax
Etienne Rolin Crossfire Tenor Sax
Dave Santoro Standards Band (1999) Tenor Sax
Dave Santoro Standards Band II (2000) Tenor Sax
Dave Santoro New Standard (2001) Tenor Sax
Dave Santoro Live-Introducing Dave Santoro Tenor Sax
Skyking Secret Sauce (1975) Percussion, Soprano & Tenor Sax
Brooke Sofferman Modesty's Odyssey (1999) Tenor Sax
Brooke Sofferman Green Between (2002) Tenor Sax
Sonora Art Quartet Sonora Tenor Sax
Sonora #2 Meet Jerry Bergonzi Tenor Sax
Charlier Sourisse Gemini Tenor Sax
Klaus Suonsaari Something in Common (1998) Tenor Sax
Richard Sussman Free Fall (2001) Tenor Sax
Dejan Terzic Sunday Night Orchestra Tenor Sax
Salvatore Tranchini Trio Idea - Napoli Connection Tenor Sax
Salvatore Tranchini Radio Suite Tenor Sax
Trio Idea Napoli Connection (1994) Tenor Sax
Dan Wall On the Inside Looking In (2000) Tenor Sax
Bennie Wallace Art of the Saxophone (1987) Tenor Sax
Richie Zellon Cafe Con Leche (1993) Tenor Sax
Richie Zellon Metal Caribe (1998) Tenor Sax
Various Artists Denon Jazz Sampler, Vol. 2 (1987) Tenor Sax
Various Artists Emergence (1994) Tenor Sax
Various Artists Color of Jazz: Red Records Jazz... (1999) Tenor Sax
Various Artists Ram Records Jazz Sampler (1999) Soprano, Alto & Tenor Sax
Various Artists 12 Jazz Visits in Copenhagen, Vol. (2001) Tenor Sax
Various Artists Montreal Jazz Festival (2002) Tenor Sax
Various Artists Ken Burns Jazz, Vol. 2 (2002) Soprano Sax
Various Artists Red Records Jazz Sampler Tenor Sax
Edo Yani Edo Yani Quartet Tenor Sax