LENNY WHITE - batteria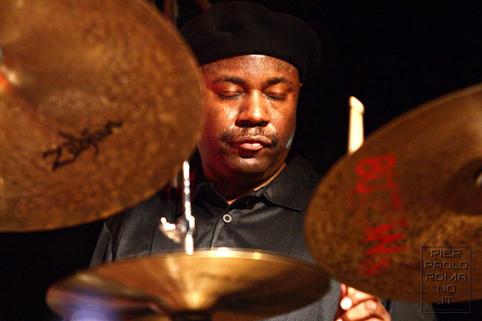 A versatile drummer, Lenny White is still best-known for being part of Chick Corea's Return To Forever in the 1970's. White was self-taught on drums and he largely started his career on top, playing regularly with Jackie McLean (1968) and recording "Bitches Brew" with Miles Davis in 1969. White was soon working with some of the who's who of jazz including Freddie Hubbard, Joe Henderson, Woody Shaw, Gato Barbieri, Gil Evans, Stanley Clarke and Stan Getz among others. As a member of Return To Forever during 1973-76, White gained a strong reputation as one of the top fusion drummers, but he was always versatile enough to play in many settings. After the breakup of RTF, Lenny White headed several fusion projects but none of the recordings (for Nemperor and Elektra) have dated well at all, emphasizing commercial funk. However his work with the Echoes Of An Era and Griffith Park all-star groups were been more successful and he has been a valuable sideman for a wide variety of projects.
pur essendo uno degli ultimi innovatori del proprio strumento, Lenny White ha trovato il modo di espandere e reinventare la propria carriera trsformandosi anche in un grande produttore. Ha prodotto infatti talenti come Nancy Wilson, Chaka Khan, Diane Reeves,Rachelle Ferelle e Marlena Shaw, solo per nominare alcune cantanti, oltre che Grover Washington,Gato Barbieri, Wayne Shorter,Wallace Roney e l'artista hip-hop Big Daddy Kane. Con Chick Corea, Stanley Clarke e Al Di Meola ha aiutato a definire il Jazz-Fusion con la vincita del premio Grammy Award con "Return To Forever".
Con il collega e membro della band Jamaica Boy e grande produttore Marcus Miller, ha co-composto la musica per il film di Reginald Hudlin "House Party", che ha avuto un grande successo economico e di critica.
Ha inoltre contribuito alla colonna sonora del film di Spike Lee "School Daze".
Nel 1968 il grande Jackie McLean chiese al diciottenne Lenny White di far parte della propria band: i batteristi prima di lui erano stati Tony Williams e Jack DeJohnette.
Nel 1999 Lenny ha celebrato trent'anni nell'industria discografica con la registrazione di "Bitches Brew" con Miles Davis. Quella registrazione ha contribuito a cambiare il volto della musica per i successivi trent'anni. Ha partecipato inoltre a "Red Clay" del famoso trombettista Freddie Hubbart, con i grandi Herbie Hancock, Joe Henderson e Ron Carter.
Lenny White ha registrato undici albums come leader e ha compiuto tours in gran parte del mondo con proprie bands.
Discografia
Lenny White, 'We Are Renderers Of Spirit', 1998, AGAT
Michel Petrucciani, 'Music', 1989, Blue Note
Miles Davis, 'Bitches Brew', 1969, Columbia, Ars Nova
Ron Carter, 'Stardust', 2001, EMI
Rachelle Ferrell, 'First Instrument', 1989, Blue Note
Return to Forever, 'Where Hove I Known You Before', 1974, ECM, Ars Nova
Return to Forever, 'Romantic Warrior', 1976, Columbia/Legacy, Lider
Stanley Clarke, 'Journey To Love', 1975, Epic, CD-R
Return to Forever, 'Hymn To The Seventh Galaxy', 1973, Polydor Ltd., Dora, CD-R
Eliane Elias, 'Timeless Eliane Elias', 2003, Savoy Jazz, CD-R (wb)
Al DiMeola, 'Land Of The Midnight Sun', 1976, Columbia, CD-R
Al DiMeola, 'Elegant Gypsy', 1976, Columbia, CD-R
Buster Williams, 'Houdini', 2001, Sirocco Jazz Limited, CD-R (wb)
Eddie Gomez, 'Next Future', 1992, Stretch, GRP, CD-R (wb)
Wallace Roney, 'No Room For Argument', 2000, Concord Jazz, CD-R (wb)
Marcus Miller, 'Dreyfus Night In Paris', 2004, Dreyfus
Marcus Miller, 'Tales', 1995, PRA, CD-R (wb)
Miles Davis, 'The Complete Jack Johnson Session', 2003, Columbia/Legacy, CD-R (wb)
Buster Williams, 'Griot Liberte', 2004, High Note
Andrew Hill, 'Passing Ships', 2003, Blue Note, CD-R (wb)
Freddie Hubbard, 'Red Clay', 1970, CBS, CD-R (wb)