BUSTER WILLIAMS - contrabbasso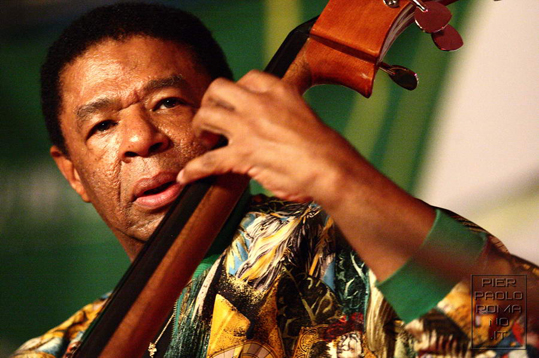 Buster Williams is a prodigious artist whose playing knows no limits. He has played, recorded and collaborated with jazz giants such as Art Blakey, Betty Carter, Carmen McRae, Chet Baker, Chick Corea, Dexter Gordon, Jimmy Heath, Branford Marsalis, Wynton Marsalis, Gene Ammons, Sonny Stitt, Herbie Hancock, Larry Coryell, Lee Konitz, McCoy Tyner, Illinois Jacquet, Nancy Wilson, Elvin Jones, Miles Davis, the Jazz Crusaders, Ron Carter, Woody Shaw, Sarah Vaughan, Benny Golson, Mary Lou Williams, Hank Jones, Lee Morgan, Jimmy Rowles, Hampton Hawes, Cedar Walton, Bobby Hutcherson, Billy Taylor, Sonny Rollins, Count Basie, Errol Garner, Kenny Barron, Charlie Rouse, Dakota Staton, Kenny Dorham, Freddie Hubbard, etc. to name a few.
Mr. Williams has recorded soundtracks for movies including Les Choix des Armes; McKenna's Gold with Gregory Peck; David Lynch's, Twin Peaks " Fire Walk With Me"; Spike Lee's, "Clockers" etc. Television commercials include, Coca-Cola; Old Spice; Tott's Champagne; Prudential Insurance; Chemical Bank; Alpo Dog Food; HBO; Budweiser Beer; etc. TV shows include an appearance on the Johnny Carson " Tonight Show' with Errol Garner; the Jay Leno "Tonight Show" where he performed five of his original compositions with the Branford Marsalis Tonight Show Band. Other television shows include: Sesame Street with Joe Williams; A&E (Arts and Entertainment) with Bill Cosby; The Joan Rivers Show with Bill Cosby; The Andy Williams Show with Nancy Wilson; the Joey Bishop Show; the Grammy Awards with Herbie Hancock, Tony Williams and Bobby McFerrin; the Mike Douglas Show; the Today Show; etc.
Awards include a Grammy in 1979; the Min-On Art Award; the SGI Glory Award the SGI Cultural Award; the RVC Corporation RCA Best Seller Award; NEA recipient; New York Fellowship Grant; 5 Stars from Downbeat magazine for the album "Crystal Reflections" listed in Who's Who in Black America; and numerous proclamations.
Charles Anthony Williams, Jr. (nickname: Buster) was born in Camden, New Jersey on April 17, 1942. His mother, Gladys worked as a seamstress and his father, Charles Anthony Williams, Sr. (nick-name: Cholly), a bassist, worked various day jobs to support his five children, and at night played gigs to support his musical spirit.
"My father was my teacher. He would prepare my lessons for me,'' Buster recalls, "and when I got home from school I was supposed to practice, then he would listen while he was eating his dinner. It was an unwritten law that I had to play it right or hear about it. I was going to be the best. I had no choice. In those days, instead of a two car family, we were a two bass family. My father was a fan of Slam Stewart, and he strung his basses the way Slam did. Instead of the regular G-D-A-E, he strung a high C; ie,C-G-D-A. Adding the C string puts the playing of higher-pitched passages at a more comfortable position. Of course, when he decided to teach me he restrung one of his basses in the traditional manner for me. He told me, 'If I re-string my bass for you, you'd better be serious!'"
And Buster indeed was serious. In 1959 he began working with Jimmy Heath whose quartet included Sam Dockery on piano and the legendary Specs Wright on drums. What I learned from Jimmy about music and life was so valuable that bits and pieces of that experience continue to unfold even now. It was like taking a Time release "capsule of knowledge." At the age of age 17, he began playing with Gene Ammons and Sonny Stitt, just one month after graduating from Camden High School in 1960, and stayed with them for a year until the band got stranded in Kansas City. My parents had told me to always keep my train fare home tucked away in a bible, which they had given me. Well this was great lookin' out, but I would probably never have a problem, I thought. Wrong. When the problem did occur I was out on the road broke. Gene Ammons had run off with all the money and nobody got paid. Fortunately, I, along with the piano player and drummer was able to work a week with Al Hibbler, and thereby earn my train fare back home.
Back home in Camden, Buster took some courses in Composition and Harmony and Theory at Combs College of Music in Philadelphia. Then came a gig in Wilmington, Delaware with the Gerald Price Trio. Dakota Staton heard the trio and hired them on the spot. In 1962, he moved on to work with singer Betty Carter, and then Sarah Vaughan, who took him on his first European tour. He was 20 years old, on the French Riviera, and meeting musicians who would figure heavily in his future---Miles Davis, Ron Carter, Herbie Hancock, George Coleman, and Tony Williams. His big, deep, resilient and inventive playing since then has made him the bassist of choice throughout the jazz world.
In 1964 he joined Nancy Wilson, got married, and moved out to L.A. He continued to work with Nancy until he decided to return to New York in October of 1968. About 5 or 6 albums came from this relationship. During this time he also worked with and recorded 5 albums with the Jazz Crusaders; worked and recorded with Miles Davis; played with Kenny Durham and was in demand as first call for recording studio; TV, and movie dates.
As soon as he returned to New York he began working with Art Blakely, Herbie Mann, Herbie Hancock and Mary Lou Williams. This worked fine until gigs started to conflict and Buster was forced to choose. He chose to stay with the Herbie Hancock sextet which consisted of Herbie, Buster, Johnny Coles, Garnet Brown, Joe Henderson, and Tootle Heath. Between 1969 and 1972 the group metamorphosised into the final personnel: Benny Maupin, Billy Hart, Eddie Henderson, Julian Priester, and Patrick Gleason on Moog synthesizer, Herbie, and Buster.
In 1980, he was nominated for a Grammy Award for his contribution to the album "Love For Sale"/The Great Jazz Trio, with Hank Jones and Tony Williams. His arrangements and compositions have been recorded by Roy Ayers, Roy Hargrove, Art Blakely, Larry Coryell, Freddie Hubbard, Buck Hill, the Jazz Crusaders, Mary Lou Williams, and Herbie Hancock, to name a few.
In addition to albums, he has recorded numerous television commercials and movie soundtracks. Buster, along with Ron Carter was the featured soloist with the London Symphony Orchestra on the soundtrack composed by Phillipe Sarde for the Yves Montand and Simone Signoret film, " LES CHOIX DES ARMES." "That film required quite a commute," Buster recalls. "I had to go back and forth to London at least once a month for six months, carrying my bass. They really got to know me at JFK and Heathrow.
Somewhere in the early'80's, Buster did a tour with Herbie and Tony Williams which included the young, fresh, new on the scene trumpeter, Wynton Marsalis. Then Herbie formed a trio of himself, Buster and Al Foster on drums. For certain summer tours, Branford Marsalis, Michael Brecker, or Greg Osby were added. The trio continued working together until 1995. Also during this period there was a Grammy appearance which featured a quintet made up of Buster, Herbie, Tony, and Bobby McFerrin. In 1989, Buster recorded an album of his compositions that featured Wayne Shorter; Herbie, Al, and a brilliant trumpeter named Shunzo Ono. This project entitled "Something More," was released on the IN+OUT lable and became the catalyst for Buster to form his own group which he calls "Something More."
In 1991 he was awarded a National Endowment for the Arts grant to compose and perform a work for quintet, string ensemble and vocal chorus. Also that year he received a New York Foundation for the Arts Fellowship Grant.
Before forming the Buster Williams Quintet "Something More" he was a member of the world renowned cooperative quartet, Sphere, which consisted of pianist Kenny Barron; drummer Ben Riley; Buster Williams; and the late tenor saxophonist Charles Rouse. Then came his work with ''The Timeless Allstars", featuring Buster; Cedar Walton; Billy Higgins; Curtis Fuller; Harold Land; and Bobby Hutcherson.
"After working almost continuously for 30 years as a sideman," says Buster, "I decided it was time to take the plunge, step up to the front, play my music, and express my concept of a cohesive musical unit. I've served my apprenticeship under many great masters and feel that it's my honor and privilege to carry on the lineage that makes this music such an artistically rich art form.
Since the inception of "Something More'' in 1990, the group has had numerous tours of Europe including the first International Jazz Festival in Moscow; tour of Japan and Australia; countless engagements throughout the U.S. and a CD soon to be released.
After all this and " Something More", the logical question for Buster is, " What's next "?
La lista dei grandi artisti jazz con i quali Buster Williams ha collaborato durante la sua carriera di quarantacinque anni è formidabile. Include, solo per nominarne alcuni, Chet Baker, Count Basie, Art Blakey, Chick Corea, Miles Davis, Erroll Garner, Dexter Gordon, Herbie Hancock, Wynton Marsalis, Sonny Rollins, Sonny Stitt, McCoy Tyner, Sarah Vaughan, Charles Anthony "Buster" WIlliams è nato a Camden, in New Jersey, il 17 Aprile 1942. Suo padre Charles Anthony "Cholly" Williams, ha fatto una grande varietà di lavori per mantenere la moglie e cinque figli e suonando la sera il contabbasso. Anche se molto impegnato insegnò a Buster il piano, il basso e la batteria, e fu il contrabbasso ad avvincere il giovane musicista che incomincia a suonare pubblicamente all'età di quindici anni.
Nel 1959 Williams ha cominciato a lavorare con il sassofonista Jimmy Heat, il cui quartetto comprendeva il pianista Sam Dockery e il batterista Charles "Specs" Wright. Poi, all'età di diciassette anni, terminata la Camden High School, ha suonato per un anno con un gruppo condotto da Gene Ammons a da Sonny Stitt.
In seguito ha frequentato corsi di composizione, armonia e teoria al Combs College di Musica di Filadelfia, prima di unirsi al trio del pianista Gerald Price. Durante un concerto a Wilmington, Delaware, sono stati sentiti dal cantante Dakota Staton che li ha immediatamente assunti. Negli anni sessanta Buster Williams ha lavorato principalmente con le cantanti - Dakota, Betty Carter, Sarah Vaughan e Nancy Wilson.
Dal 1965 e il 1968, Williams è stato un membro regolare del gruppo Jazz Crusaders con il quale ha registrato cinque albums.
Nel 1967 ha sostituito per un breve periodo Ron Carter nella band di Miles Davis, e successivamente ha lavorato con Herbie Mann e Art Blakey. Nel 1969 si è unito al gruppo di Herbie Hancock fino al 1973.
Verso la fine degli anni settanta e gli anni ottanta Williams lavora con Harold Land, Bobby Hutcherson, Lee Morgan, Joe Farrell, Freddie Hubbard, Kenny Burrell, Jimmy Heath e Hamiet Bluiett.
Nel 1982 si unisce a Charlie Rouse, Kenny Barrone Ben Riley per formare l'applauditissimo gruppo Sphere, dedicato alla musica di Thelonious Monk, che è stato in tour ed inciso cinque album nei cinque anni successivi.
Negli anni novanta Williams ha lavorato regolarmente con il batterista Al Foster nel trio di Herbie Hancock, al quale si sarebbe presto aggiunto Branford Marsalis.
Nel 1989 Buster Williams ha registrato un album di proprie composizioni "Something More" per l'etichetta IN+OUT, con Herbie Hancock, Wayne Shorter, il trombettista Shunzo Ohno e il batterista Al Foster. Decise quindi di formare un suo proprio gruppo chiamato Something More con Ohno, il tenorista Ralph Moore, il pianista Benny Green e il batterista Billy Drummond, con il quale ha fatto numerosi tours nel mondo.
Uno dei veri giganti del contrabbasso, Buster Williams è stato nominato per un Grammy Award nel 1980 per il suo contributo nell'album "Love For Sale".
Oltre ad essere un eccezionale bassista con un bellissimo suono, un'intonazione perfetta ed un tempo impeccabile, Williams è anche un dotato compositore la cui musica è stata registrata da Chet Baker, Roy Ayers, Freddie Hubbard, Mary Lou Williams, Larry Coryell e molti altri.
Discografia

ABDULLAH IBRAHIM "NO FEAR NO DIE" TIPTOE 1993
ABDULLAH IBRAHIM "AFRICAN RIVER" ENJA
ALBERT DAILY "THAT OLD FEELING" STEEPLECHASE 1107 1978
ALBERT DAILY "THE DAY AFTER THE DAWN" COLUMBIA KC31278
ANN BURTON "IT MIGHT AS WELL BE LOVE" TURNING POINT 30002 1983
ANN BURTON "NEW YORK STATE OF MIND" TRIO RECORDS 9175 1979
ART BLAKEY "THE ALL STAR JAZZ MESSENGERS" BAY STATE 8033 1982
ART FARMER/BENNIE GOLSON "JAZZTET"
BENNY ARONOV "SHADOW BOX" CHOICE RECORDS 1978
BENNY GREEN "IN THIS DIRECTION" CRISS CROSS
BENNIE MAUPIN "THE JEWEL IN THE LOTUS" ECM 1043 1974
BEN RILEY "WEAVER OF DREAMS" JOKEN BK105 1993
BETTY CARTER "BETTY CARTER ALBUM' BET-CAR NK10002
BILL BARRON "JAZZ CAPER" MUSE 5235 1978
BILLY HART "RAH" GRAMAVISION RECORDS
BILLY HART "ENCHANCE" HORIZON A&M SP725 1977
BISON KATAYAMA/CEDARW/BUSTER W "URBAN LABYRINTH" KING RECORDS 1994
BOBBY HUTCHERSON "FAREWELL KEYSTONE" THERESA 124 1982
BOBBY HUTCHERSON "IN THE VANGUARD" LANDMARK 1513 1986
BOBBY HUTCHERSON "LANDMARKS 1984-86" LANDMARK RECORDS 1991
BRANFORD MARSALIS "RENAISSANCE"
BUCK HILL "SCOPE" STEEPLE CHASE 1123 1979
BUCK HILL "THIS IS BUCK HILL" STEEPLE CHASE 1095 1978
BUSTER WILLIAMS "PINNACLE" MUSE RECORDS 5080 1975
BUSTER WILLIAMS "HEARTBEAT" MUSE REOCRDS 5101 1976
BUSTER WILLIAMS "CRYSTAL REFLECTIONS" MUSE RECORDS 5171 1977
BUSTER WILLIAMS "TOKU-DO" NIPPON COLUMBIA 1978
BUSTERWMS/CEDARW/BILLYH/CHAS.LL "ACOUSTIC MASTERS" ATLANTIC 1994
BUSTER WILLIAMS "DREAMS COME TRUE" VERSATILE/BUDDHA/ARISTA 1980
BUSTER WILLIAMS "SOMETHING MORE" IN AND OUT RECORDS 1989
BUSTER WILLIAMS "SOMEWHERE ALONG THE WAY" TCB RECORDS 1996
BUSTER WILLIAMS/KENNY BARRON "TWO AS ONE" RED RECORDS 214 1986
CARLOS GARNET "BLACK LOVE" MUSE 5040 1974
CARLOS McKINNEY "UP FRONT" SIROCCO JAZZ LIMITED 1997
CARMEN McRAE "I'M COMING HOME AGAIN" BUDDHA 6501 1978
CECIL PAYNE "BIRD GETS, THE WORM" MUSE 5061 1976
CEDAR WALTON "AMONG FRIENDS" EVIDENCE 1992
CHARLES McPHERSON "McPHERSON'S MOOD" PRESTIGE PR73343 1970
CHARLES SULLIVAN "RE-ENTRY" WHY NOT PA7152 1976
CHARLIE ROUSE "UPPER MANHATTAN JAZZ SOCIETY ENJA 1992
CHET BAKER "CHET BAKER/WOLFGANG LACKERSHMID" SANDRA 2110 1979
CHET BAKER "PEACE" ENJA 4016 1982
CHICK COREA "OUTBACK" CTI 6014 1971
CHICO FREEMAN
CHIP WHITE "HARLEM SUNSET" POSTCARDS" 1994
CINDY BLACKMAN "ARCANE" MUSE 1988
CLAUDIO RODITI "FREE WHEELIN" RESERVOIR RECORDS 1995
CORNEL DUPREE "SATURDAY NIGHT FEVER" VERSATILE 6001 1977
DAVID FATHEAD NEWMAN "RESURGENCE" MUSE 1980
DAVID FATHEAD NEWMAN "LONE STAR LEGEND" 32 RECORDS 1997
DEXTER GORDON "THE TOWER OF POWER" PRESTIGE 7623 1969
DEXTER GORDON "MORE POWER" PRESTIGE 7680 1969
DEXTER GORDON "TANGERINE" PRESTIGE 10091 1972
DEXTER GORDON "GENERATION" PRESTIGE10069 1972
DEXTER GORDON "POWER" PRESTIGE 24087 1978
DEXTER GORDON "BLUE DEX:DEXTER GORDON PLAYS THE BLUES" PRESTIGE
EDDIE HENDERSON "SUNBURST" BLUE NOTE L464g 1975
EMILY REMLER "EAST TO WEST" CONCORDE 356 1988
EMILY REMLER "RETROSPECT VOLUME 1" CONCORD JAZZ 1991
EMILY REMLER "RETROSPECTIVE VOL.2" CONCORD JAZZ
EARL & CARL GRUBBS "REBIRTH" MUSE 5047 1974
ERIC KLOSS "ESSENCE" 1973
FRANCO AMBROSETTI "WINGS" ENJA 4068 1983
FRANCO AMBROSETTI "GIN & PENTATONIC" ENJA
FRANK MORGAN "BEBOP LIVES" CONTEMPORARY RECORDS
FRANK MORGAN "LAMENT" CONTEMPORARY RECORDS
FRANK MORGAN "MOOD INDIGO" ISLAND RECORDS 91320-1 1989
FREDDIE HUBBARD "OUTPOST" ENJA 3095 1981
GARY BARTZ "EPISODE ONE CHILDREN OF HARLEM" CHALLENGE RECORDS 1994
GENE AMMONS "THE BOSS IS BACK" PRESTIGE PR739 1969
GENE AMMONS/SONNY STITT "BOSS TENORS" VERVE V/V6-8426 1961
GENE AMMONS/SONNY STITT "WE'LL BE TOGETHER AGAIN" PRESTIGE 1961
GENE AMMONS PRESTIGE GIL EVANS ORCHESTRA "LUNAR
ECLIPSE"LIVE IN EUROPE NEWTONE RECORDS NT6711 1981
GRANT GREEN "EASY" VERSATILE 6002 1978
GROOVE HOLMES "STARWARS/CLOSE ENCOUNTERS" VERSATILE MMSG6000 1977
HANK JONES "LOVE FOR SALE/THE GREAT JAZZ TRIO" EW 8046 1976
HAROLD LAND "THE PEACE MAKER" CADET 813 1968
HAROLD LAND "A NEW SHADE OF BLUE" MAINSTREAM MRL 314 1968
HAROLD MAYBERN "GREASY KID STUFF" PRESTIGE 7764 1970
HAROLD MAYBERN "WORKIN' & WAILIN" PRESTIGE 7687 1969
HELEN MERRILL/GIL EVANS "COLLABORATION" EMARCY
HERBIE HANCOCK "FAT ALBERT ROTUNDA" WARNER BROTHERS 1834 1970
HERBIE HANCOCK "MWANDISHI" WARNER BROTHERS 1858
HERBIE HANCOCK "CROSSINGS"
HERBIE HANCOCK "SEXTANT"
HERBIE HANCOCK "V.S.O.P." COLUMBIA 3468 1976
HERBIE HANCOCK MWANDISHI-THE COMPLETE WARNER BROS. WARNER ARCHIVES 1994
HERBIE HANCOCK "QUARTET LIVE"1988,1992
HILTON RUIZ "EXCITION" STEEPLE CHASE SCS 1078 1977
HOUSTON PERSON "THE BIG HORN" MUSE RECORDS 5136 1976
HOUSTON PERSON "THE TALK OF THE TOWN" MUSE RECORDS
ILLINOIS JACQUET "THE BLUES: THAT'S ME" PRESTIGE 7731 1969
JACK WILSON "SOMETHING PERSONAL" BLUE NOTE 4251/84251 1967
JAMES BROWN "BLACK CAESAR" POLYDOR 1973
JAMES BROWN "MAKE IT FUNKY:THE BIG PAYBACK"1971-75 POLYGRAM CHRONICLES 1996
JAMES MORRISON/ADAM MAKOWICZ "SWISS ENCOUNTER" EASTWEST AMERICA 1988
JAMES WILLIAMS "THE ARIOSO TOUCH" CONCORDE CJ192 1982
JAZZ CRUSADERS "UH HUH" PACIFIC JAZZ 10124 1967
JAZZ CRUSADERS "LIGHTHOUSE'68" PACIFIC JAZZ 20131 1968
JAZZ CRUSADERS "LIGHTHOUSE'69" PACIFIC JAZZ 20165 1969
JAZZ CRUSADERS "THE BEST OF THE JAZZ CRUSADERS" PACIFIC JAZZ
JIMMY ROWLES "GRAND PAWS" CHOICE 1014
JIMMY ROWLES, ELVIN JONES "THE PEACOCKS" COLUMBIA JC34873 1976
JIMMY SMITH "GO FOR WHATCHA KNOW" BLUENOTE 9186
JOHN McNEIL "FAUN" STEEPLE CHASE1117
JOHN McNEIL/TOM HARREL "LOOK TO THE SKY" STEEPLE CHASE 1128 1979
JOHN RICHMOND "ROUND ONCE" STEEPLE CHASE 1983
JOHNATHAN SCHWARTZ "SINGS ARTHUR SCHWARTZ" MUSE 5143 1977
JON LUCIEN "MOTHER NATURES SON" MERCURY 1993
KENNY BARRON "IMO LIVE" WHY NOT 25032
KENNY BARRON "INNOCENCE" WOLF 1203
KENNY BARRON "LIVE" WHY NOT RECORDS 1982
KENNY BARRON "GREEN CHIMNEYS" CRISS CROSS 1008 1983
KEVIN EUBANKS "BEST OF KEVIN EUBANKS" GRP RECORDS
LARRY CORYELL "EQUIPOSE" MUSE 51319 1985
LARRY CORYELL "TOKU-DO" MUSE 1987
LARRY CORYELL "AIR DANCING"
LARRY CORYELL "SHINING HOUR" MUSE
LEE KONITZ "YES,YES MONET" STEEPLE CHASE 1119 1979
MARY LOU WILLIAMS "FREE SPRITS" STEEPLE CHASE 1043 1975
MARY LOU WILLIAMS "MY MAMA PINNED A ROSE ON ME" PABLO 2310819 1977
McCOY TYNER "SAMA LAYUCA" MILESTONE M9056 1974
MICHAL URBANIAK "MUSIC FOR VIOLIN & JAZZ QUARTET" JAM 001 1980
MILES DAVIS "DIRECTIONS" CBS SONY CSCS 5135/36 1967
DAVID LYNCH/ANGELO BADALAMENTI "TWIN PEAKS:FIRE WALK W/ME WARNER BROS. 1992
MTUME "ALKEBU-LAN" STRATA-EAST 19724 1971
NANCY WILSON "HOW GLAD I AM" CAPITAL 1964
NANCY WILSON "TODAY, TOMORROW, FOREVER" CAPITAL 1964
NANCY WILSON "NANCY WILSON AT THE COCONUT GROVE" CAPITAL 1965
NANCY WILSON "TODAY MY WAY" CAPITAL 1965
NANCY WILSON "GENTLE IS MY LOVE" CAPITAL 2351 1965
NANCY WILSON "NANCY-NATURALLY" CAPITAL 2364 1966
NANCY WILSON "TENDER LOVING CARE" CAPITAL 2555 1966
NANCY WILSON "A TOUCH OF TODAY" CAPITAL 1966
NANCY WILSON "FROM BROADWAY WITH LOVE" CAPITAL *
NANCY WILSON "WELCOME TO MY LOVE" CAPITAL 1967
NANCY WILSON "JUST FOR NOW" CAPITAL 1967
NANCY WILSON "THE SOUND OF NANCY WILSON" CAPITAL 1968
NANCY WILSON "SOMETHING WONDERFUL" CAPITAL 1964-68?
NANCY WILSON "LUSH LIFE" CAPITAL/EMI 1967
NORMAN CONNORS "LOVE FROM THE SUN" BUDDHA 5142 1973
NORMAN CONNORS "SATURDAY NIGHT SPECIAL" BUDDHA 5643 1975
NNENNA FREELON "NNENNA FREELON" COLUMBIA RECORDS 1992
OLIVER LAKE "LIFE DAN OF IS" NOVIS AN3003
PHILIPPE SARDE "LE CHOIX DES ARMES" DRG RECORDSSL9510
PRINCE LASHA/SONNY SIMMONS "FIREBIRDS LIVE AT MONTEREY JAZZ" BIRDSEYE VOL.1&2
RAHSAAN ROLAND KIRK "RETURN OF THE 5000 POUND MAN" WARNER BROS. 2918 1976
RALPH MOORE "623 C STREET" CRISS CROSS 1028 1987
REBECCA COUPE FRANKS "SUIT OF ARMOR" JUSTICE RECORDS 1991
RED RODNEY "RED, WHITE & BLUE" MUSE 5111 1976
RENEE ROSNES "WITH OUT WORDS" BLUENOTE 1992
RENE McLEAN "WATCH OUT" STEEPLE CHASE 1037 1975
RON CARTER "PICCOLO" MILE STONE 1976
RON CARTER "PEG LEG" MILE STONE 9082
RON CARTER "PICK-EM" MILE STONE 9092 1978
RON CARTER "STANDARD BEARERS" ORIGINAL JAZZ CLASSICS
ROOTS "THE MAGNIFICENT SEVEN IN+OUT RECORDS 199
ROSEANNA VITROS "LISTEN HERE" TRM 1001 1982
ROY AYERS "DADDY BUG" ATLANTIC 1538
ROY AYERS "VIRGO VIBES" ATLANTIC 1488
SARAH VAUGHAN "SASSY SWINGS THE TIVOLI" MERCURY MG2031 1963
SARAH VAUGHAN "SARAH VAUGHAN LIVE" COMPACT JAZZ VERVE 1987
SATHIMA BEA BENJAMIN "DEDICATION" EKAPA 1982
SATHIMA BEA BENJAMIN "LOVELIGHT" EKAPA 008 1987
SATHIMA BEA BENJAMIN "WINDSONG" BLACKHAWK BKH50206 1985
SATHIMA BEA BENJAMIN "MEMORIES & DREAMS" EKAPA 003 1983
SATHIMA BEA BENJAMIN "SOUTHERN TOUCH" ENJA RECORDS 1992
SHIRLEY HORN "LAZY AFTERNOON" STEEPLECHASE 1976
SHIRLEY HORN "YOU WON'T FORGET ME" VERVE 1991
SONNY FORTUNE "WAVES OF DREAMS" HORIZON A&M 711 1976
SONNY FORTUNE "FOUR IN ONE" BLUENOTE 1994
SPHERE "FOUR IN ONE" ELEKTRA MUSICIAN 60166-1 1982
SPHERE "FLIGHT PATH" ELEKTRA MUSICIAN
SPHERE "PUMPKINS DELIGHT" RED RECORDS 1986
SPHERE "ON TOUR" RED RECORDS VPA191 1986
SPHERE "LIVE AT UMBRIA JAZZ" RED RECORDS NS207 1986
SPHERE "FOUR FOR ALL" VERVE 831674-1 1987
SPHERE "BIRD SONGS" VERVE 837032-1 1988
TERENCE BLANCHARD "CLOCKERS" COLUMBIA RECORDS 1995
STANLEY COWELL "WE THREE" DIW 8017 1987
STEVE TURRE "FIRE & ICE" STASH RECORDS 1988
STEVE TURRE "RIGHT THERE" ANTILLES 1991
TERRY LYNNE CARRINGTON "TLC & FRIENDS" CEI RECORDS 2705 1981
THE TIMELESS ALLSTARS ""IT'S TIMELESS" BAYSTATE RJL8032 1982
TIMELESS ALL STARS "ESSENCE" BAYSTATE 1986
TIMELESS ALL STARS "TIMELESS HEART" BAYSTATE 8057 1983
WALTER DAVIS,JR. "ILLUMINATION" DENON 1989
WINARD HARPER "BE YOURSELF" EPICURE 1994
WOODY SHAW "WOODY 3" COLUMBIA 35977
WOODY SHAW "THE MOONTRANE" MUSE 5058 1974