JOEY CALDERAZZO - pianoforte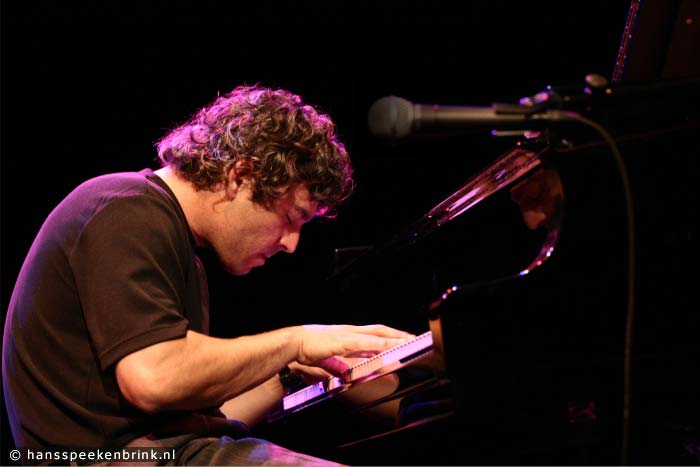 Joey Calderazzo pianista di Michael Brecker. Oggi noto in tutto il mondo per la sua energia, la sua tecnica raffinata e la sua straordinaria inventiva. Oltre che con Brecker, ha suonato con molti grandi del jazz tra cui B. Belden, J. Bergonzi, B. Mintzer, J. De Johnette, D. Holland, J. Patitucci, e, più recentemente, B. Marsalis. Ascoltandolo suonare, sembra che il giovane pianista americano abbia raccolto con grande maestria la difficile eredità di giganti del calibro di Art Tatum e Jerry Roll Morton ed abbia creato un linguaggio musicale del tutto personale.
A potentially significant pianist, Joey Calderazzo's career got off to a strong start with a series of fine Blue Note albums. He studied classical piano from age eight, discovered jazz a few years later, and hit the big time when he joined Michael Brecker's band in 1987.
Today everybody knows Joey Calderazzo, on five previous albums under his own name, he has proved to be among the most intense and engaged of contemporary soloists and accompanists. His energy, technique and rapid fire imagination have marked him as one of the most exciting jazz pianists to emerge in the past two decades. Calderazzo has documented this commanding mastery of group interplay on five previous albums that found him matching ideas and passions with imposing artists such as Michael Brecker, Bob Belden, Jerry Bergonzi, Rick Margitza, Bob Mintzer, Jack DeJohnette, Dave Holland, John Patitucci and Jeff "Tain" Watts.
In addition to his own projects, Calderazzo replaced the late Kenny Kirkland in the Branford Marsalis Quartet. After nearly two decades in the spotlight, Calderazzo has become a more complete and nuanced player, one equally capable of touching souls with taste and sensitivity. The complete range of Calderazzo's skills, however, has never been more evident than on Haiku, his debut disc on Marsalis Music.
By his own admission, Calderazzo needed time to confront the challenge of unaccompanied performance. "The complete exposure of solo piano always scared me in the past", he notes. "But the music I was writing, and the direction my playing was going, demanded that I focus on solo piano to capture what was in my head. As time passed, I slowly started doing more solos on my own gigs, and I finally reach the point where there was nothing for me to be afraid of. I was still unsure when I scheduled a series of solo gigs in England, until one concert that was supposed to be 70 minutes long ended up running two hours with all of the encores. That was the breakthrough".
Calderazzo applied himself to the solo challenge with intense listening and deep thinking about what the format required. "I bought about fifteen solo piano records, everything from Art Tatum, Keith Jarrett, Chick Corea and Brad Meldau to Jelly Roll Morton and some classical stuff. But the real key was realizing that I shouldn't follow influences, and that I shouldn't think about missing the bass and drums. I realized that, playing solo, I could really present me, and I think that this is the first album that really sounds like me".
While continuing to display his interactive skills in the collective cauldron of Marsalis' quartet, he is simultaneously finding new levels of feeling, and new directions. "I learned more from this album than from any album I ever did," the pianist emphasizes. "Playing solo just feels right. To do more of that, then get back together with Branford and Mike will just be the best."
Now Joey Calderazzo's fans can learn more about his expanding talents. In 2006 he will tour extensively Europe, first with his solo project and then with his amazing trio. In 2007 he is planning new projects, new routes and a new cd for Marsalis Music. His mastery is finally being recognized: a worldwide success.